Welcome back to The Naturopathic Kitchen, your go-to place to learn about incorporating healthy foods into your life. In today's installment, we will take a closer look at the ancient staple and modern superfood known as chia.
Chia Seed 101
A long-ignored member of the mint family, chia seeds, often simply called "chia," may be more associated with "Chia Pet" fame than food, however the tiny black or white seeds are actually nutritional powerhouses that have been used as a source of food and medicine for over 5,500 years. There is evidence that chia was initially used by Pre-Columbian civilizations like the Aztecs and Mayans as early as 3500 BC. It is also believed that chia was among the staple components of the Aztec and Mayan diet and became a major cash crop of the region. With its wealth of nutrients including essential omega-3 fatty acids, fiber, protein, minerals like calcium, manganese, magnesium and phosphorus as well as vitamins like thiamin, niacin, and riboflavin, chia is highly nutritious and could be easily stored or transported for consumption on long trips. Chia was also well known for improving stamina and endurance. Not surprisingly, the word "chia" is from the Mayan word for strength.
Where does chia seed come from? Where can I find it?
With its surge in popularity as a modern "superfood," chia is widely available at supermarkets and health food stores. Despite being a cash crop since 1500 BC, cultivation of chia was very limited until the last thirty years when a group of scientists, nutritionists, and agriculturists collaborating to revive lost nutritional plants of the Pre-Columbian era began promoting its cultivation. Traditionally, chia is grown in Central and South America, though today Australia is the largest contributor to the supply of commercial chia growing over 90% of the world's supply.
Chia seeds have a very mild flavor and are used in both savory and sweet dishes where they contribute more to crunch and texture than flavor.  When combined with liquid and allowed to soak, chia forms a gel making them a favorite vegan egg substitute as well. Chia seeds can be eaten whole without the need to be ground which makes preparation very easy. They can be eaten raw, soaked in juice, added to pudding, smoothies or baked goods as well as sprinkled on yogurt, salads or vegetables.
How do chia seeds help my health?
Don't be fooled by their tiny size, chia seeds are ounce for ounce among the most nutritious foods on the planet. Chia is the best source of essential omega-3 fats in the plant kingdom and has been shown to have positive impact on heart health and cholesterol levels.1 These same fatty acids also have anti-inflammatory activity.2 Chia seeds can also improve blood sugar control and reduce blood sugar spikes associated with consuming carbohydrate rich foods like bread.3,4 Chia seeds are loaded with nutrients that can have numerous benefits to the body and brain.
What medical conditions/symptoms are chia seeds used for?
When should chia seeds be avoided?
Chia seeds are generally recognized as safe, but some groups should be aware of potential interactions. Because of its high omega-3 content, chia can impact blood clotting. Those taking blood clotting medications should speak to their doctor before adding chia seeds to their diet. Additionally, those with sensitivities to mustard, sesame seeds, or herbs like oregano and thyme may also react to chia. Patients with certain bowel diseases may also need to avoid chia seeds. Check with your doctor if you are unsure.
Let's try out chia seeds with these tasty recipes!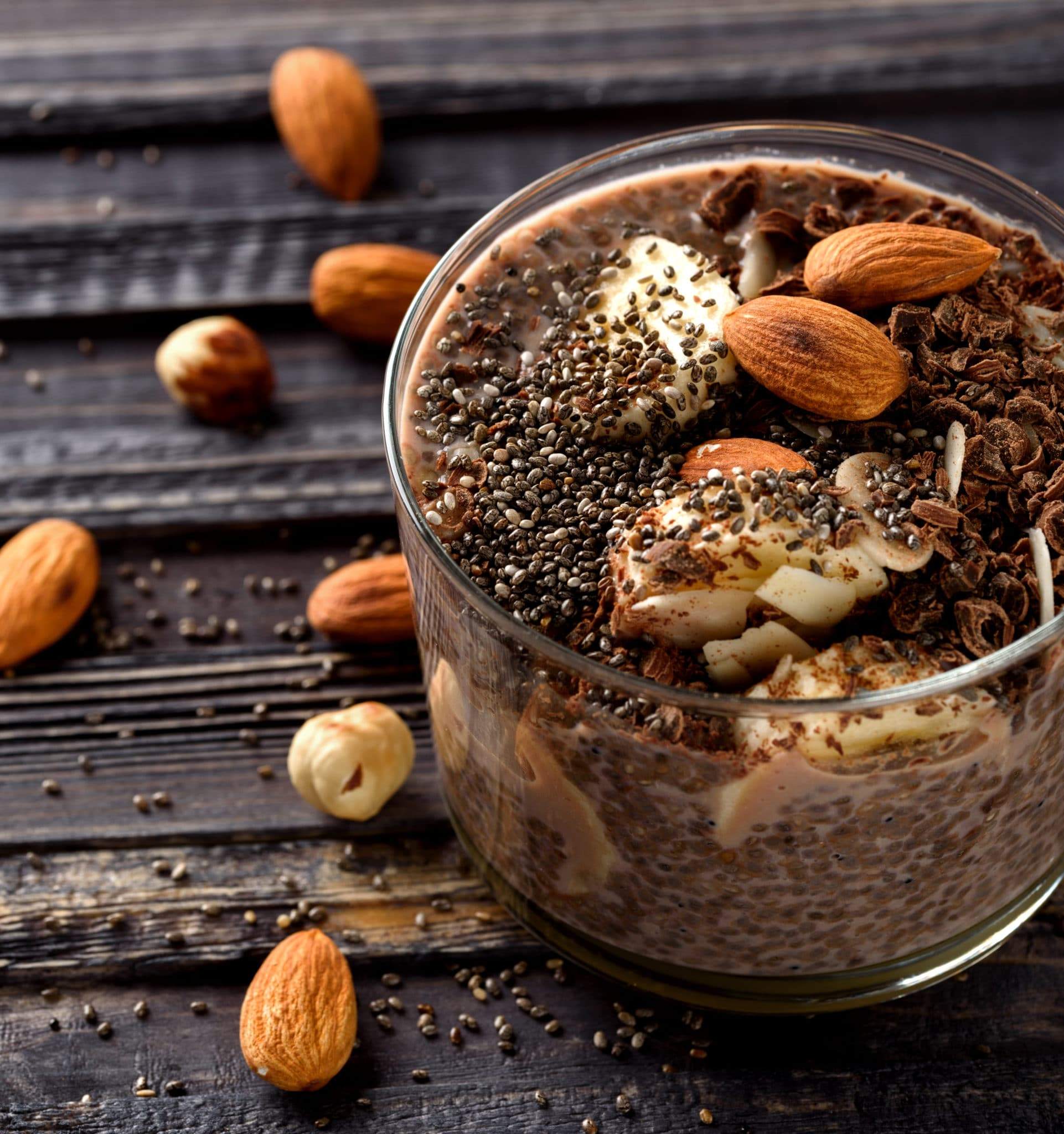 Chocolate-Coconut Chia Seed Mousse
INGREDIENTS
1/4 c chia seeds (black or white)
1 can full-fat coconut milk
2 T coconut butter (not coconut oil)
4-5 T maple syrup, to taste
1/2 t vanilla extract
1/3 c cacao powder
pinch of sea salt
Optional toppings: raw sliced almonds, raw coconut flakes/chips
INSTRUCTIONS
Process the chia seeds in a coffee grinder for about 20 seconds or until ground to a fine powder. Whisk and set aside. In a large food processor, process the coconut milk, coconut butter, maple syrup, the seeds, vanilla, and a pinch of sea salt until lightly incorporated. Add cacao powder and process until completely smooth, scraping down the sides. Measure out 1/4 cup of the chia seed powder (you will have some left over) and add it to the food processor. Continue to process until the pudding is smooth and no clumps remain. Pour the mixture into individual ramekins or bowls. Refrigerate for a full 24 hours before serving. To serve, toast a handful of sliced almonds and raw coconut flakes in a skillet over medium heat until lightly browned. Careful — both ingredients burn easily. Top the chocolate mousse with the toasted almonds and coconut. Serve.
Thank you to veggiesandgin.com for this wonderful recipe!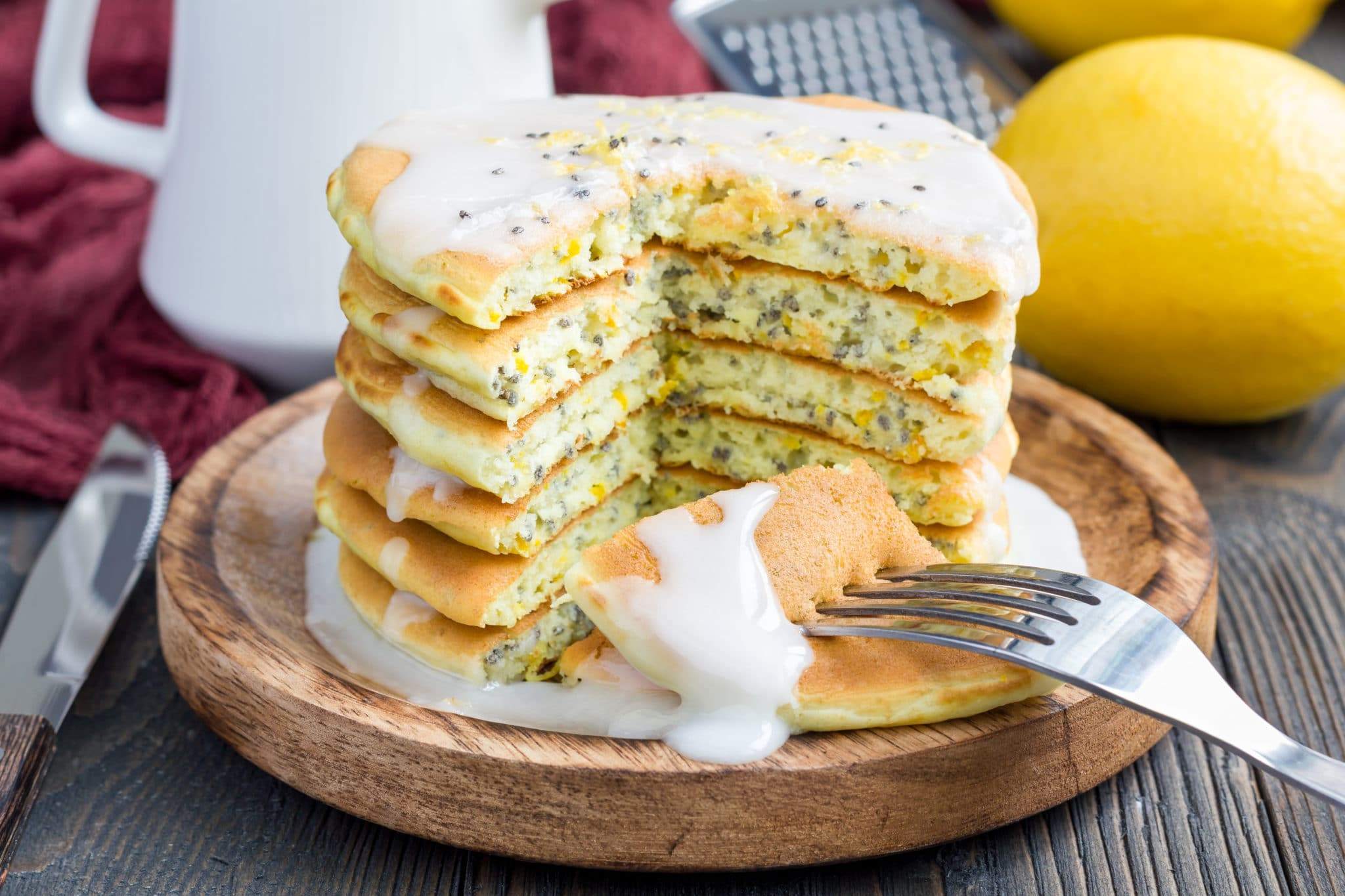 Protein Lemon-Chia Seed Pancakes
INGREDIENTS
2 egg whites
1 scoop vanilla protein powder
2 organic bananas
1 t chia seeds
1/8 t vanilla extract
1/2 t baking powder
1/2 t lemon zest
1 T fresh lemon juice
1 T oat flour (or all-purpose flour)
INSTRUCTIONS
In a medium bowl, smash the bananas with a fork. Add the remaining of the ingredients and combine all ingredients until smooth. Heat a small nonstick pan over medium/low and coat with cooking spray. Pour 1/4 cup of the batter onto the pan. Cook until bubbles break the surface of the pancakes, and the undersides are golden brown, about 2 minutes. Flip with a spatula and cook about 1 minute more on the second side.
Thank you to muydelish.com for this tasty recipe!
Learn More About Becoming a Naturopathic Doctor
Receive information from the accredited schools of your choice located across North America!