Welcome to our weekly dose of
The Naturopathic Kitchen
where we explore food as medicine. Through this series we hope that you will empower yourself to healthier eating. It can be intimidating to try new things especially when you don't know what it is good for or how to prepare/cook it. Let's learn together! Today, our focus is on cranberries!
Cranberry 101
Are you thinking Thanksgiving? If so, you are not alone! Cranberries are probably most thought of as a popular Thanksgiving side dish. Because they are harvested in early fall, they are often associated with the holidays in general. Cranberries can be enjoyed in many different forms—dried, frozen, fresh, or juiced. Fresh cranberries are good for about 20 days but freezing them increases their shelf life to 2 years, making them accessible year-round. Eaten fresh, they can be quite tart as the sugar content is not as high as some other berries, but the health benefits are too great to not include them when they are in season!
Where do cranberries come from? Where can I find them?
Cranberries are indigenous to North America and were a staple for Native Americans who harvested wild cranberries for a variety of remedies, foods and drinks. They were first grown commercially in 1816 and today are grown on more than 40,000 acres of farmland. Cranberries can be found in almost every culture, but outside of North America they are commonly used in the dried form. Their popularity makes them an easy find in almost every grocery store,  ranging from produce, to the frozen fruit section and in the dried bulk goods area. When looking for dried cranberries, be sure to grab the unsweetened variety, and read the label, as hydrogenated oils may be added to prevent sticking. You can also head over to the juice section for 100% unsweetened cranberry juice, just be prepared – it is very tart. Also, be sure to get organic cranberries when possible as conventional cranberries contain pesticide residues.1
How do cranberries help my health?
Most of the health benefits obtained from cranberries come from their impressive antioxidant content. This makes them excellent for prevention of many chronic diseases including, cardiovascular disease, metabolic syndrome, and even some cancers.1,2,3 Cranberries have also gotten recognition for helping with urinary tract infections, but the research isn't solid on whether they help during an active UTI though they may help to prevent one from starting.4
What medical conditions/symptoms are cranberries good for?
When should cranberries be avoided?
Cranberries are generally very well tolerated. However, they do contain high amount of oxalate which is a primary component of kidney stones. There aren't any documented cases of someone developing kidney stones from cranberries but if you have a history of stones it might be best not to consume large amounts.
Let's try them out with delicious and nutritious recipes!
Cranberry Orange Scones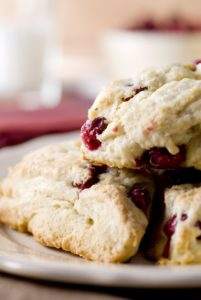 INGREDIENTS
1 ½ c organic whole wheat flour 1 ½ t baking powder ½ t salt 1 T orange zest (about 1 large orange) 2 T unsalted butter, cold and cubed ½ c plain Greek yogurt 3 T local honey 3 T freshly squeezed orange juice 1 t vanilla extract ¾ c fresh cranberries, diced 2 t organic milk
INSTRUCTIONS
Preheat the oven to 425°F, and line a baking sheet with parchment paper. In a medium bowl, whisk together the flour, baking powder, and salt. Whisk in the orange zest. Cut in the butter with a pastry cutter or the back of a fork until the mixture resembles fine crumbs. Stir in the Greek yogurt, honey, orange juice, and vanilla. Fold in the diced cranberries with a spatula. Using a spatula, shape the dough into a ¾" tall circle on the prepared baking sheet, and brush with the milk. Slice the circle into 8 triangular segments with a sharp knife. Bake at 425°F for 18-21 minutes, or until the tops are lightly golden. Cool on the pan for 5 minutes before transferring to a wire rack. Thank you to Amy's Healthy Baking for this recipe!
Homemade Cranberry Applesauce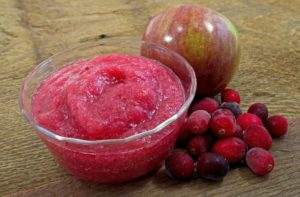 INGREDIENTS
4 apples, peeled, cored and sliced 2 c fresh cranberries 1/2 c local honey 2 T lemon Juice 1 c water 1/2 t cinnamon 1/2 t cloves 1/2 t nutmeg
INSTRUCTIONS
In a large sauce pan add water, lemon juice and honey. Stir over medium heat until honey is loose. Add cinnamon, cloves and nutmeg. Add cranberries and apple slices. Bring to a boil. Reduce heat and simmer for 30 minutes. Thank you to iSave A-Z for this recipe!
Learn More About Becoming a Naturopathic Doctor
Receive information from the accredited schools of your choice located across North America!