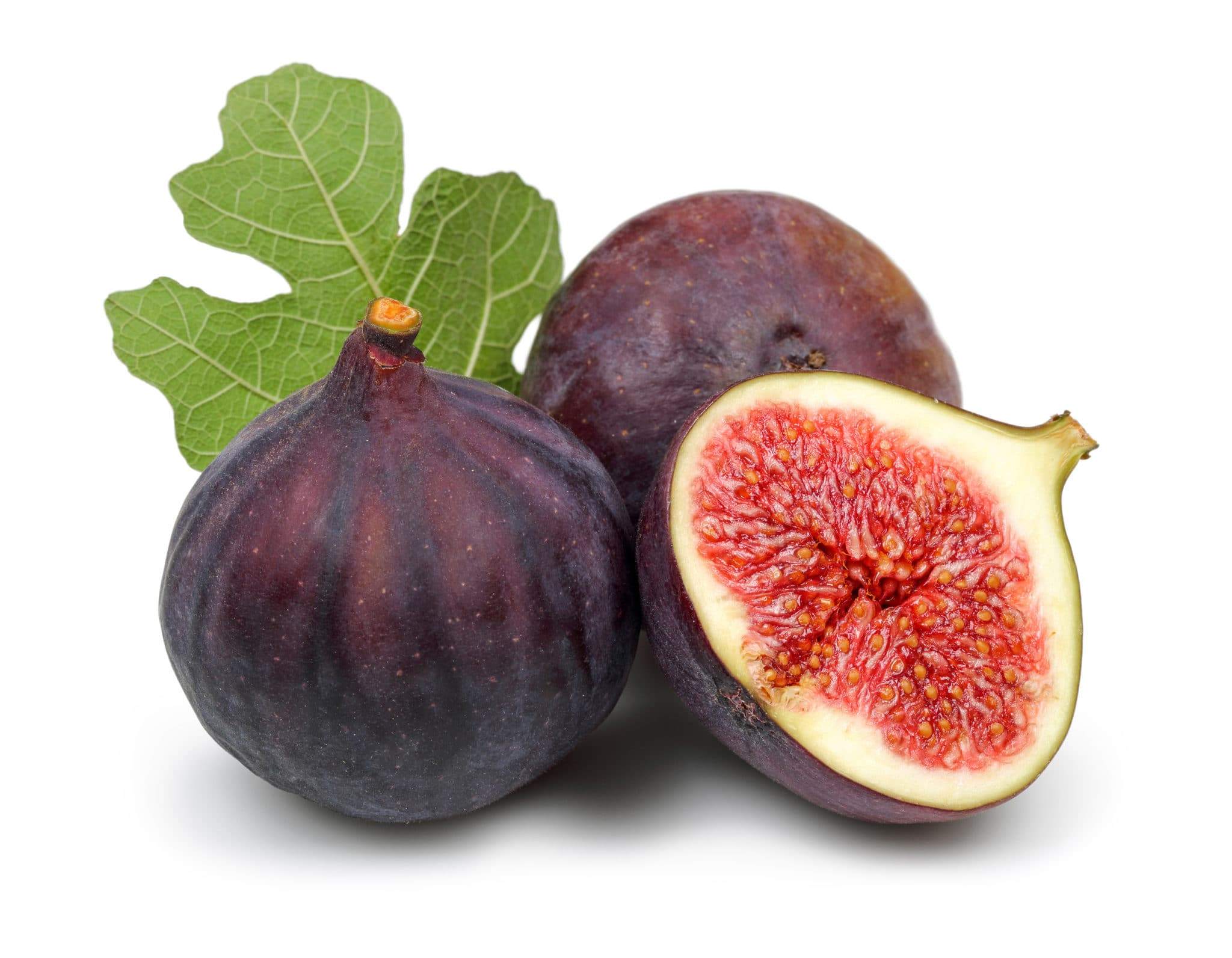 Welcome back to The Naturopathic Kitchen! Each week we go back to the basics to use food as medicine in order to lead healthier lives. It can be intimidating to try new things especially when you don't know what it is good for or how to prepare/cook it. Today we'll be figuring out figs!
Figs 101
Are Fig Newtons or figgy pudding the first thing that comes to mind when you think fig? Let's change that association! As one of the sweetest fruits available, figs are a great way to sweeten a dessert or add variety to any healthy dish.
Where do figs come from? Where can I find them?
Figs have a long history of use dating back as far as 5000 BC and is said to be one of the first fruits ever cultivated by humans. Figs were so popular in ancient Greece, that laws were enacted to prevent exportation. They are also a major part of the Mediterranean Diet which is considered one of the healthiest diets in the world.
Figs are the fruit of the fig tree and are actually inverted flowers. The flesh of the fig fruit is made from the mature flower, which blooms inside the skin and is never seen like a traditional flower.
Figs are easily found fresh in most major grocery stores between mid-June and mid-October. They can be purchased year-long dried, frozen or in jams.
How do figs help my health?
Naturally high in essential nutrients and fiber, figs are considered a very nutrient-dense fruit. Like other tree fruits, figs contain high amounts of polyphenols—a free radical scavenging family of compounds, as well as potassium, vitamin K, vitamin C, and various trace minerals. Research has shown figs help with conditions such as: liver disease, diabetes, anemia, skin cancer, and may even reduce skin wrinkles from aging. 1,2,3,4
What medical conditions/symptoms are figs used for?
When should fig be avoided?
Since figs can lower blood sugar, you should monitor your blood sugar closely when taking insulin for diabetes. Figs should also be avoided 2 weeks prior to surgery for this same reason.
Let's try out some flavorful fig recipes!
Grilled Brie Stuffed Figs with Honey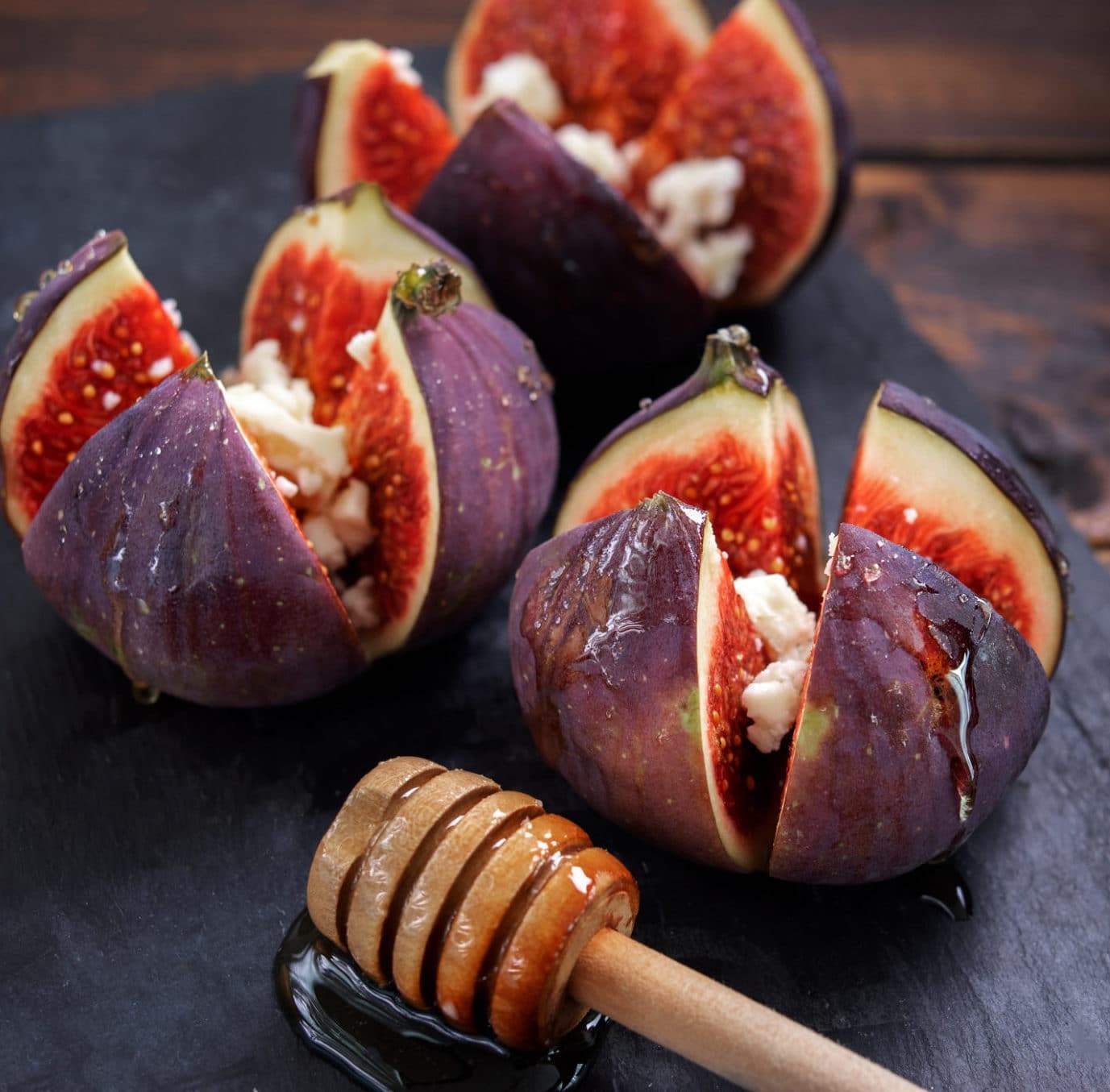 INGREDIENTS
8 fresh figs
1/4 wedge of brie cheese, cut into small 1/2-inch cubes
organic cold pressed olive oil
2-3 grill skewers
Honey
Freshly ground black pepper
INSTRUCTIONS
Preheat the grill and make sure the surface is clean. Soak wooden skewers (if you are using wood). Press the figs onto the skewers. Lightly brush each side with olive oil. Grill until softened with the lid on the grill up so they don't overheat and burst. When cooked, turn them inside and cool for five minutes. Remove from skewers. Make cross-shaped cuts from the top-down midway into the fig. Stuff with the brie cheese. Drizzle with honey and sprinkle cracked pepper on top to taste.
Thank you to Garden and Table for this recipe!
Balsamic and Mustard Glazed Chicken and Figs
INGREDIENTS
1/2 c balsamic vinegar
2 T Dijon mustard
2 T olive oil, divided
1 T honey
1 T coarsely chopped fresh sage leaves
2 cloves
garlic, minced
2 lbs. bone-in, skin-on chicken thighs or breasts (4 – 6)
Kosher salt
Freshly ground black pepper
8 fresh figs, halve
INSTRUCTIONS
Place a rack in the middle of the oven and heat to 350°F. To make the glaze, whisk the vinegar, mustard, 1 tablespoon of olive oil, honey, sage and garlic together in a small bowl; set aside. Pat the chicken dry with paper towels and season both sides with salt and pepper. Heat the remaining olive oil in a large cast iron or oven-safe skillet over medium-high heat until the oil is shimmering but not smoking. Add the chicken skin-side down and cook until the skin is crisp and golden-brown, 6 to 8 minutes. Flip the chicken and scatter the figs around it. Carefully pour the glaze evenly over the chicken and figs. Transfer the skillet to the oven and cook, spooning some of the glaze in the skillet back over the chicken halfway through, until chicken reaches an internal temperature of 165°F, 10 to 12 minutes total. Serve the chicken with the sauce.
Thank you to kitchn for this recipe!
Become the Doctor You'd Like to Have
Learn more about becoming a naturopathic doctor. Receive information from one of our eight accredited schools across the U.S. & Canada.