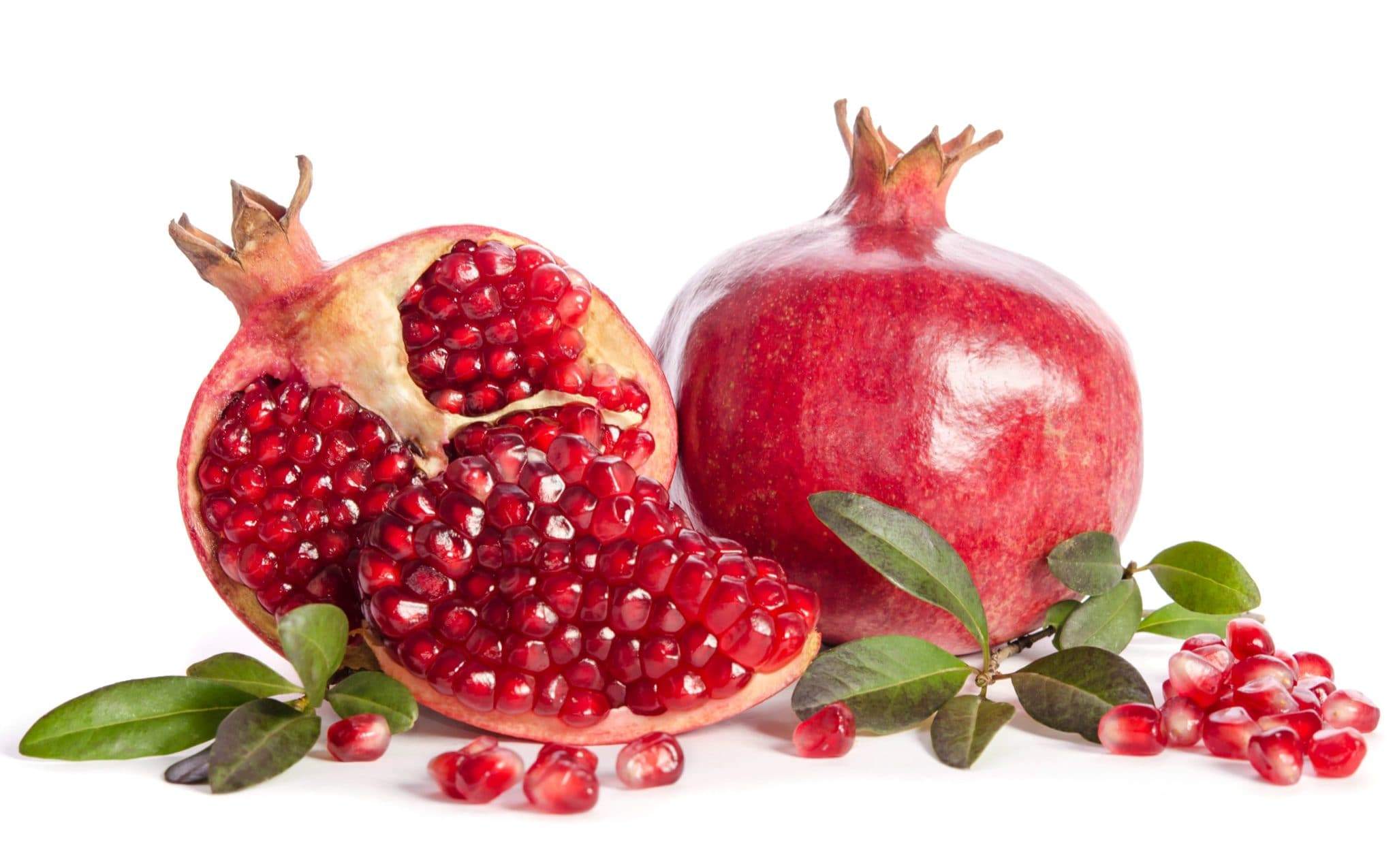 Welcome to The Naturopathic Kitchen! Each week we go back to the basics and learn about some of our favorite food, and how to maximize their health benefits. This week is all about pomegranate.
Pomegranate 101
Pomegranate may not be the easiest fruit to eat, but its amazing health benefits and fun flavor profile are definitely worth the effort. The word "pomegranate" is derived from Latin which means "seeded apple." Pomegranates are sometimes called Chinese apples. They are also the basis for grenadine which is commonly used to flavor alcoholic drinks as well as non-alcoholic Shirley Temples.
Where does pomegranate come from? Where can I find it?
Along with figs and vines, pomegranates were among the earliest crops cultivated for human consumption dating back to approximately 5,000 years ago. In Ayurvedic medicine, pomegranate juice is commonly used for improving digestion and circulation. Pomegranate originates from Iran and its surrounding countries, but it also grows well in Mediterranean countries, the Arabian Peninsula and India. Today, it is commonly cultivated in warmer parts of North and South America.
It's usually easy to find pomegranate in grocery stores between September and January. Sometimes you can find pomegranate seeds already out of the skin, but since these are only good for three days in the refrigerator, the whole fruit may be the better option. When choosing a pomegranate, be sure to grab one that feels heavy as these have the fullest seed pods and will last the longest.
How does pomegranate help my health?
Just as with other berries (pomegranate is considered a large berry), pomegranate is a champion when it comes to antioxidant activity. Not only is pomegranate a powerhouse antioxidant, it also has been shown to inhibit certain inflammatory cytokines such as COX-2—similar in action to how NSAIDs work.1 Research has shown pomegranate to be helpful for memory retention, Alzheimer's symptom improvement, improving motor coordination after stroke, improving gut bacteria, and may even provide protection from certain cancers. 2,3,4,5
What medical conditions/symptoms is pomegranate good for?
When should pomegranate be avoided?
Pomegranate can lower blood pressure so it may be best to avoid two weeks before and after surgery or if you already have low blood pressure.
How do I remove the seeds without creating a disaster?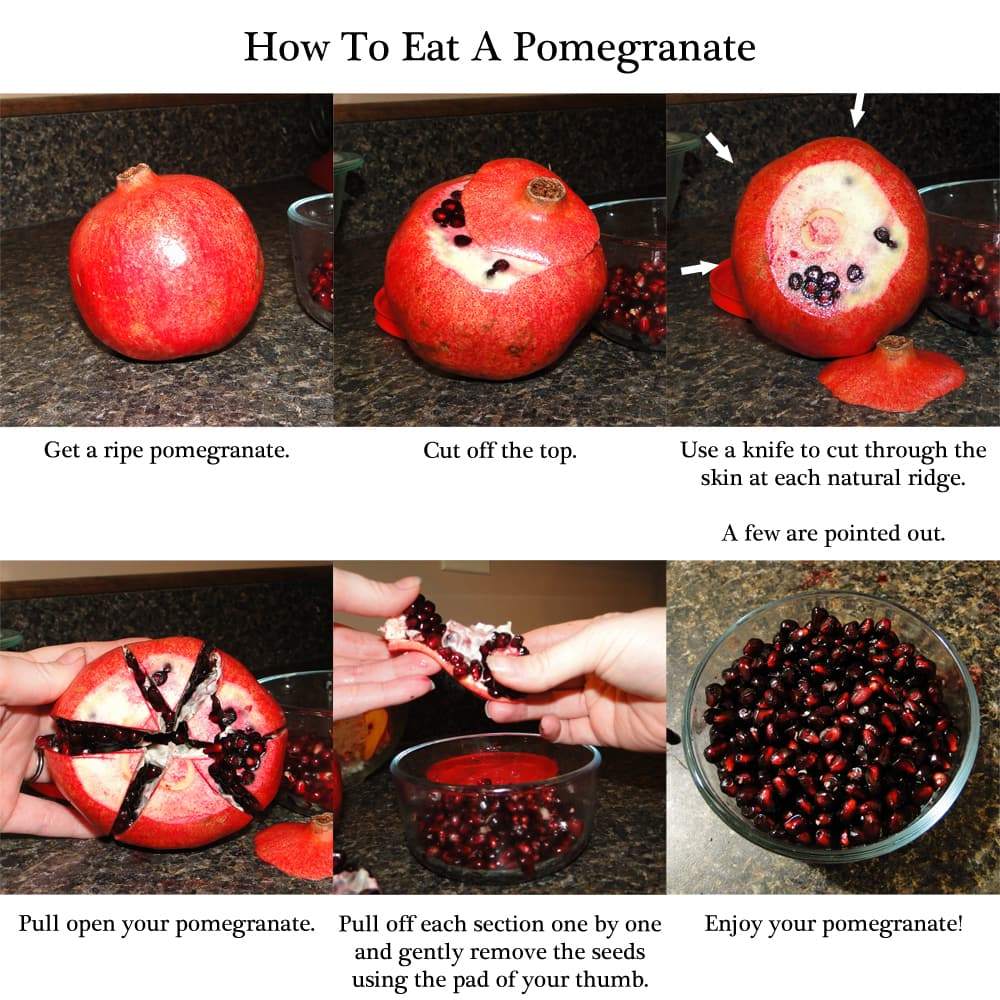 Thank you to The Eco-Friendly Family for teaching us one way to prepare a pomegranate!
Let's try pomegranate out with some delicious recipes!
Pomegranate is one of the easiest (and tastiest) foods to incorporate into your diet. Throw some pomegranate arils into yogurt, oatmeal, veggie salads, fresh fruit mixes, or even cookie batter! Try pouring melted dark chocolate over a small pile of pomegranate arils for a simple, yet delicious bite-size snack.
Pomegranate Quinoa Stir Fry
INGREDIENTS
1 c quinoa
1 tsp vegetable stock
1/4 c cashews
1 T coconut oil
2 medium carrots, peeled and cut into long, thin slices
1/2 small red onion, finely sliced
1 c red cabbage, finely chopped
1 c savoy cabbage, shredded
1 small handful pomegranate seeds
1 mild red chili, finely chopped
SAUCE INGREDIENTS
1 t ginger, peeled and finely grated
1 large clove of garlic, crushed
1 T lime juice
1 T maple syrup
2 T soy sauce
1 t sesame oil
INSTRUCTIONS
Prepare quinoa and set aside. Warm a wok over medium heat and dry fry the cashews for 2-3 minutes until golden brown. Remove from the pan and chop. Set aside. Heat the coconut oil in a wok over a high heat, add the carrots and stir- fry for a minute. Add onion and cook for another minute. Finally, add the savoy, red cabbage, chili and cook for one more minute.
To make the sauce, whisk all the ingredients together in a small bowl. Add the sauce to the pan with vegetables, mix well, then add the quinoa. Cook for an additional 1- 2 minutes until the quinoa is heated through. Scatter the cashews over the top and sprinkle with pomegranate seeds. Serve immediately.
Thank you to Anna Banana for this recipe!
Pomegranate Guacamole

INGREDIENTS
4 medium ripe avocados, pitted and diced
2 T fresh lime juice
2 garlic cloves, pressed or minced
1 t salt
½ medium red onion, chopped
¼ cup fresh cilantro, mostly leaves, chopped
1-2 jalapeños (or 1 serrano pepper), seeded and chopped
1 medium pomegranate, deseeded
INSTRUCTIONS
With a spoon, scoop the avocado flesh into a medium-sized mixing bowl. Add the lime juice, garlic and salt. Mash the ingredients together until the avocado is creamy. To ensure that the onion flavor isn't overpowering, rinse the chopped onion under running water and pat dry with a paper towel. Add the onion, chopped cilantro and jalapeño to the bowl and mix well. Gently stir in half of the pomegranate arils. Sprinkle remaining pomegranate arils over guacamole along with additional chopped cilantro. Serve immediately.
Thank you to Cookie + Kate for this tasty recipe!
Learn More About Becoming a Naturopathic Doctor
Receive information from the accredited schools of your choice located across North America!