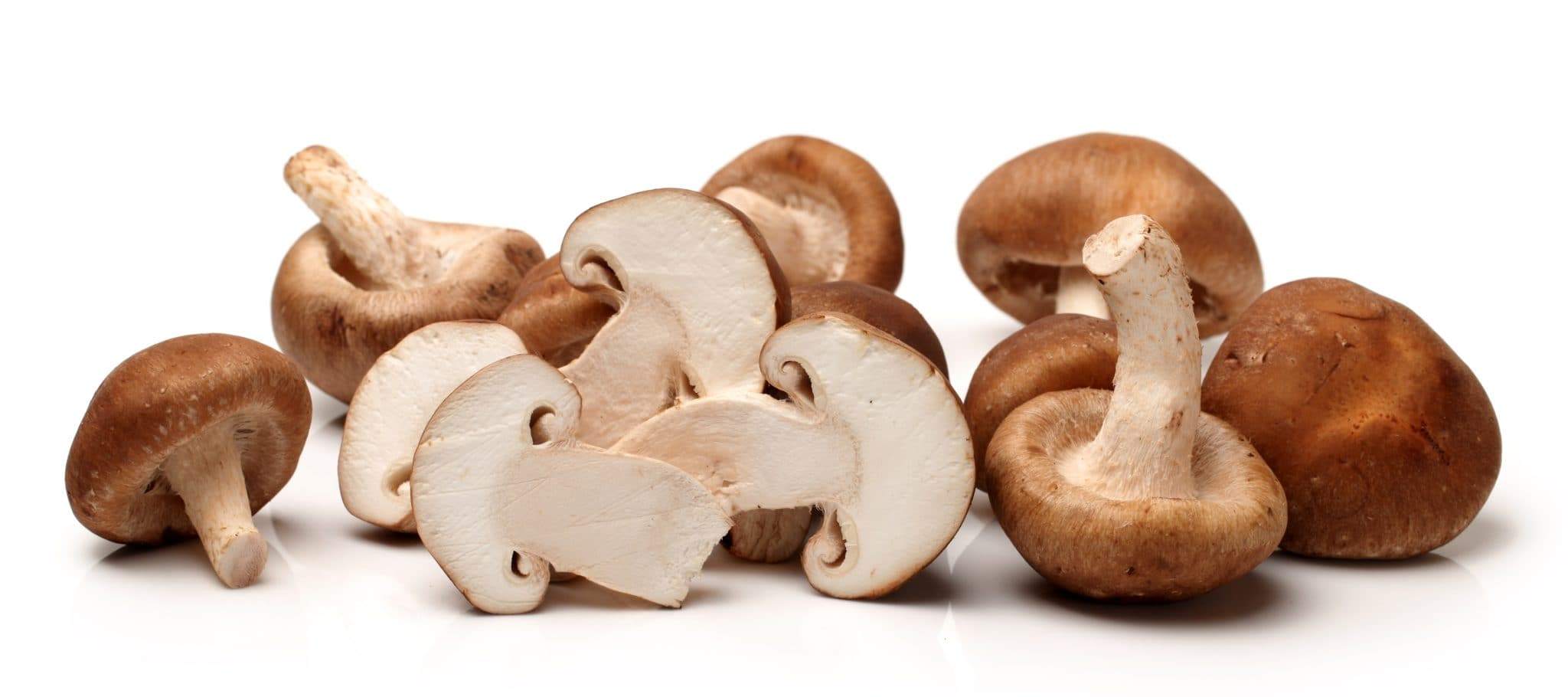 Welcome back to The Naturopathic Kitchen! Each week we go back to the basics to use food as medicine in an effort to lead healthier lives. It can be intimidating to try new things especially when you don't know what it is good for you or how to prepare/cook it. Today we'll be talking all about shiitake mushrooms!
Shiitake 101
Shiitake are one of a few special mushroom varieties that have both a versatile flavor profile as well as an abundance of health benefits. Shiitake have been cultivated in Asia for nearly six hundred years, but only recently have they started to gain traction in Western countries. And it's a good thing too—these mushrooms are too beneficial to pass up!
Where do shiitake come from? Where can I find them?
Shiitake are found in the mountainous forests of China, Japan, Indonesia, and Taiwan, but are now grown commercially all over the world. They can easily be found in most grocery stores next to the other varieties of mushrooms. Since shiitake are also considered a medicinal mushroom, they may be found as a powder or extract sold at specialty stores. In Japan, the most prized specimens are called donko and come with a hefty price tag. These donko have closed caps while the Koshin types have open caps and are less expensive.
How does shiitake help my health?
Shiitake mushrooms don't have a huge list of health benefits, but the ones that they do have are very powerful. Research has shown that they are effective for weight loss, cardiovascular disease, hypertension and even cancer. 1,2,3 On top of these impressive benefits, shiitake are loaded with B vitamins. Another interesting use for these mushrooms comes from emerging research in oral health—shiitake may be better than some leading mouthwashes!4
What medical conditions/symptoms are shiitake mushrooms good for?
Let's try it out with delicious and nutritious recipes!
Shiitake Mushroom Risotto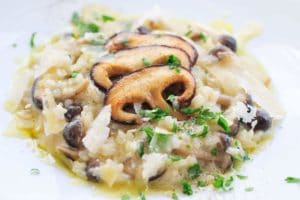 INGREDIENTS
3 c shiitake mushrooms
2 t thyme, fresh leaves
1 yellow onion
6 c organic mushroom or vegetable broth
1 1/2 cups Arborio rice
1/4 c olive oil
1 c white wine
Truffle oil (optional)
INSTRUCTIONS
In a medium pot, add the handful of the whole mushrooms to the broth and simmer over medium heat. In a large sauté pan over medium heat add the olive oil and the onion. Sweat, stirring often for 5 minutes until the onion is soft and tender. Add the mushrooms and cook another 2-3 minutes. Add the rice and stir to coat the rice with the onion and oil. Cook stirring often for 2 minutes. Add the wine to the rice and stir, scraping any bits from the bottom of the pan. As the wine cooks off, add a large ladle of hot stock and continue to cook and stir. As the stock cooks off, add another ladle of stock. Continue this process of adding stock and cooking it off, stirring continuously for about 20 minutes or until the rice is al dente. Season to taste with kosher sea salt and stir in the fresh thyme leaves. Serve hot with whole mushrooms on top for garnish and a drizzle of truffle oil. Serves 4-6.
Thank you to Heather Christo for this recipe!
Bok Choy Shiitake Mushroom Soup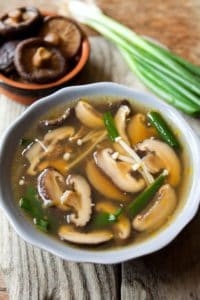 INGREDIENTS
4 c bok choy (chopped)
2 c shiitake mushrooms (sliced)
1 c onion (chopped)
1 t olive oil
2 T low sodium organic soy sauce or organic tamari
1/2 t Szechuan pepper
1 quart organic chicken stock
6-8 drops sesame oil (use sparingly)
salt and pepper to taste
fresh chopped chives for garnish
INSTRUCTIONS
In a large pan cook onion and oil on medium-low heat.  Stir constantly until onion is opaque.  Add remaining ingredients except sesame oil, salt and pepper.  Cook until shiitakes are tender, about 15 minutes.  Add sesame oil, salt and pepper to taste.  Garnish with fresh chopped chives. Serves four.
Thank you to Feral Kitchen for the recipe!
Learn More About Becoming a Naturopathic Doctor
Receive information from the accredited schools of your choice located across North America!