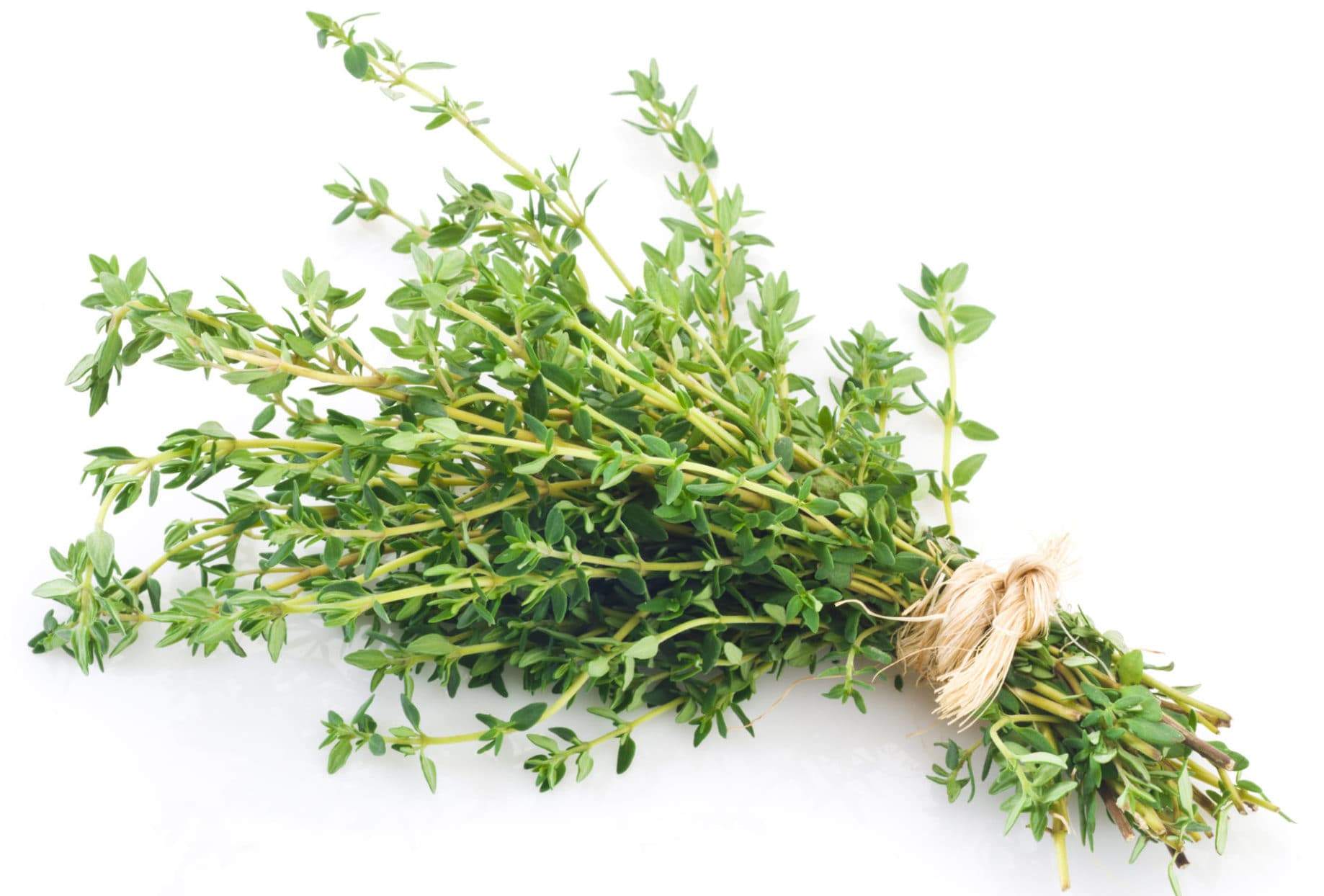 Maybe you're just starting your culinary health journey or maybe you're looking for extra cooking tips. Whatever brings you here, welcome to The Naturopathic Kitchen! Each week we explore a new herb or food that packs amazing and surprising health benefits that you can incorporate into your daily meals. Whether you're a novice or cooking expert, we're sure you'll find some new and interesting tips that will stimulate your appetite for health!
Thyme 101
Thyme is an all-star herb stemming from the mint family with a rich history in culinary arts, medicine and spiritual practices. Thyme has thick stems with small fragrant leaves that have a subtle, dry aroma and a slight minty flavor.
Where does thyme come from? Where can I find it?
Use of thyme as both a medicinal and culinary herb dates back to the ancient Romans and Greeks.  Even the ancient Egyptians used thyme as part of the embalming process. Hippocrates, the "Father of Western Medicine" often recommended thyme as a remedy for respiratory diseases and conditions. Today, thyme is easily found in any grocery store either in the dry herbs or refrigerated sections. Thyme essential oil and other thyme-based products can be found at specialty herb shops or online. It is another easy addition to your herb garden!
How does thyme help my health?
The main beneficial component in thyme is thymol which accounts for around 47% of the aromatic oil content. Thymol, along with the other aromatic oils exert health benefits such as antibacterial and antifungal activity, mood enhancement, skin conditions, and possibly even helpful with certain cancers. 1,2,3,4
What medical conditions/symptoms is thyme good for?
Can thyme be used as an essential oil?
Thyme's health benefits can be had from either the fresh herb or the essential oil, however, the essential oil is much more potent. As always, when considering using essential oils be sure to follow the guidance of an experienced and credentialed naturopathic physician.
When should thyme be avoided as a medicine (food is okay)?
Stomach issues like gastritis, peptic ulcers, stomach pain, or colitis
Constipation
Pregnancy and lactation
Heart failure
Hypersensitivity to essential oils
Let's try it out with delicious and nutritious recipes!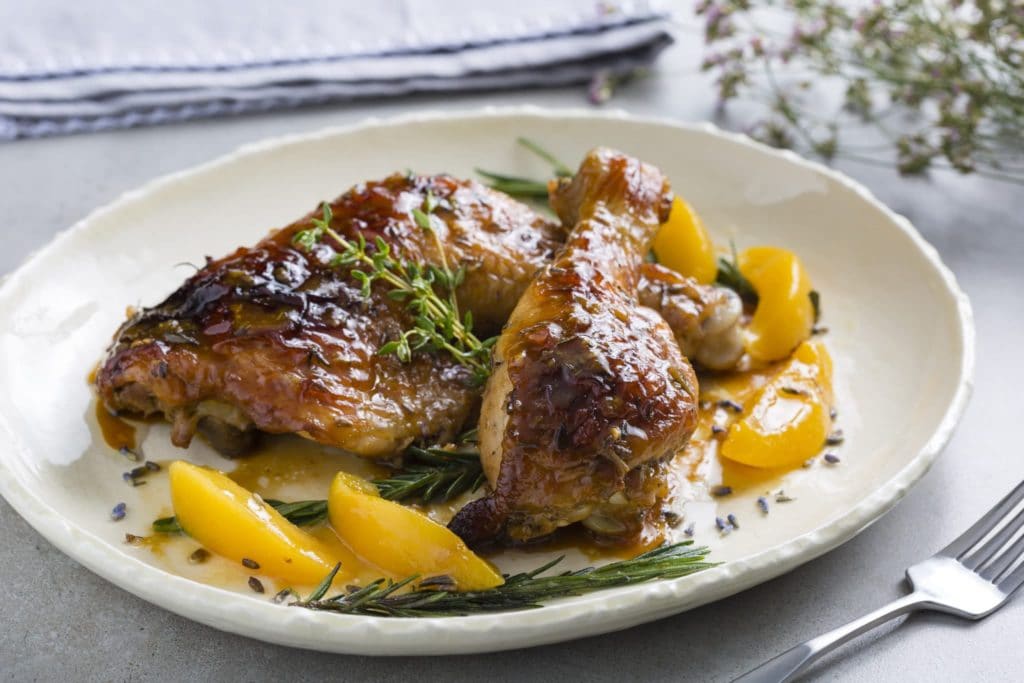 Sheet Pan Herb and Peach Glazed Chicken
GLAZE INGREDIENTS
¾ c peach jam
¼ c hoisin sauce
2 T apple cider vinegar
2 t Dijon mustard
2 t freshly grated ginger
¼ t crushed red pepper flakes (optional)
CHICKEN INGREDIENTS
3 T fresh sage leaves, chopped
2 T fresh marjoram, chopped
1 T fresh thyme leaves
2 t kosher salt
1 t black ground pepper
1 t garlic powder
8 organic boneless, skinless chicken thighs, about 1 ¾ lbs
1 ½ lbs organic sweet potatoes, peeled and cut into 1-inch cubes
1 large red onion, cut into wedges
2 T extra-virgin olive oil
GLAZE INSTRUCTIONS
Combine all glaze ingredients in a small saucepan. Bring to a boil and reduce heat to a simmer. Cook until thick, syrupy and can coat the back of a spoon, 10-12 minutes, stirring occasionally.
CHICKEN INSTRUCTIONS
Preheat oven to 425°F. Line an extra-large, rimmed sheet pan with parchment or aluminum foil. In a small bowl, combine sage, marjoram, thyme, salt, pepper, and garlic powder. Pat chicken dry with paper towels. Rub herb mixture all over chicken pieces and place on prepared sheet pan. Let sit at room temperature for 30 minutes. Gently toss sweet potatoes and onion in a large bowl with olive oil. Season with salt and pepper. Scatter vegetables around the chicken thighs on the sheet pan. Slather chicken with the glaze and drizzle some over the vegetables. Roast for 15 minutes, rotate the sheet pan and baste with any leftover glaze. Bake until chicken is cooked through and vegetables are fork tender, about 10 more minutes. Temperature of the chicken should be 165°F. Serves 6.
Thank you to Give it Some Thyme for this delicious recipe!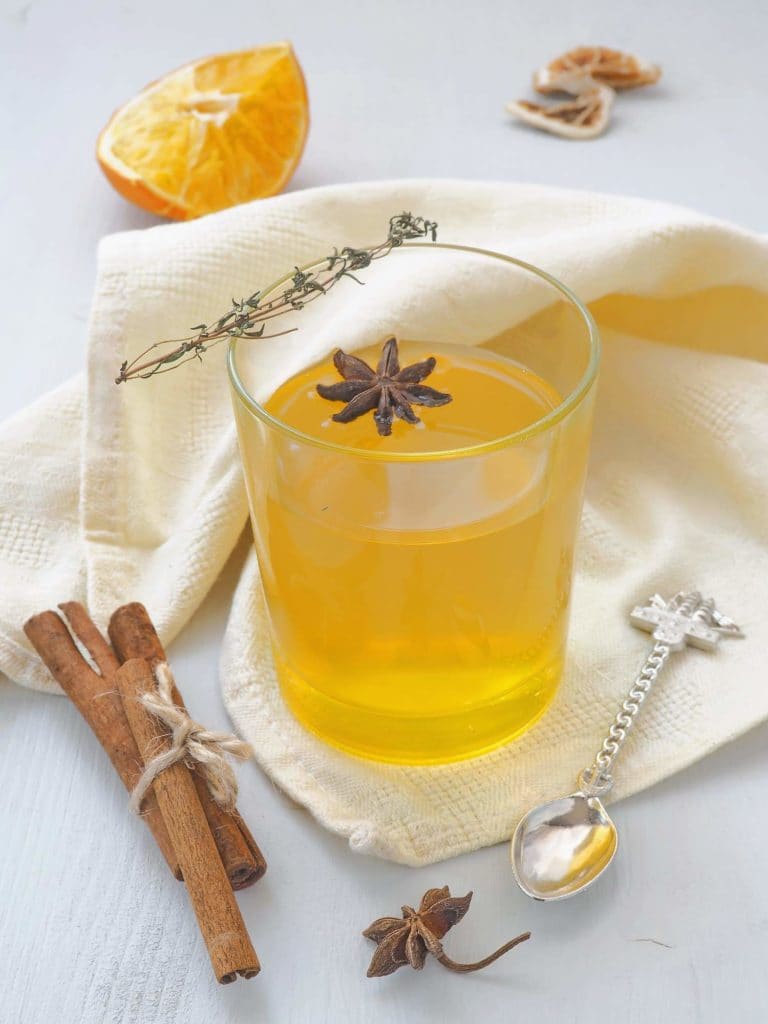 Immune Boosting Cinnamon Thyme Tea
INGREDIENTS
4 t cinnamon chips, or a couple of cinnamon sticks
4 t dried thyme
4 c filtered water
Natural sweetener of choice
INSTRUCTIONS
Add water to saucepan, cover and bring to a boil. Remove pan from heat, add herbs, cover and steep for 15 minutes. Strain tea into quart-size mason jar. Serve hot and sweeten with a small amount of honey or natural sweetener of choice. Store extra tea in the refrigerator for up to a week.
Thank you to Recipes to Nourish for this healthful recipe.
Homemade Herbal Cough Syrup
INGREDIENTS
1 c water
1″ knob of ginger, grated or minced
1/2-3/4 c raw, local honey
1 organic lemon with peel, sliced thin and seeds removed
6 sprigs of fresh thyme, up to a handful or 1 tbsp dried thyme (fresh contains more volatile oils and is best. Lemon thyme can be substituted.)
INSTRUCTIONS
Add water and ginger to a medium size saucepan. Simmer on medium-low for 15-20 minutes until the water has reduced by half. While the water and ginger is simmering, mix and mash the lemon and honey together to release the juices from the lemon. Set aside. Once the water and ginger has reduced, bring the water to a low boil, then turn off the pot and add the fresh or dried thyme. Cover the pot for 5-10 minutes to steep. Strain the ginger, thyme and the lemon slices if desired (I usually leave the lemon slices.) Add the lemon, honey and ginger-thyme tea back to the pan and stir to combine. Pour the syrup into a glass bottle or jar, label and date. Store in the refrigerator for up to month. Take one teaspoon to one tablespoon every half hour or as needed. Children under 1 years of age should not consume honey.
Thank you to My Healthy Homemade Life for this healthy alternative to commercial cough syrups.
Learn More About Becoming a Naturopathic Doctor
Receive information from the accredited schools of your choice located across North America!