Admissions Representatives Profile
Choosing the right medical school is an important decision, and our counselors work hard for you. They will answer all your questions and provide the information you need. They want to make sure you and our school will be a good fit for your medical education. National University has a full staff of Admissions counselors. Get to know them all by clicking here.
Teri Hatfield
Assistant Director of Admissions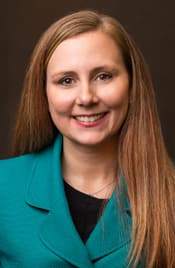 Teri Hatfield joined National University of Health Sciences (NUHS) in November of 2006 as an admissions counselor and was promoted to assistant director of admissions in September of 2008. She has been instrumental in the enrollment growth of all degree programs at NUHS, including the doctor of naturopathic medicine program. Teri graduated from Ripon College in Wisconsin with a bachelor's degree in psychology. She also holds an MBA from Olivet Nazarene University. In her free time, Teri enjoys riding horses and taking in the many events that the Chicagoland area has to offer.
"I love working for NUHS. There are so many opportunities for students. Not to mention it is only a short train ride to the city. There are so many amazing things to do in Chicago!"