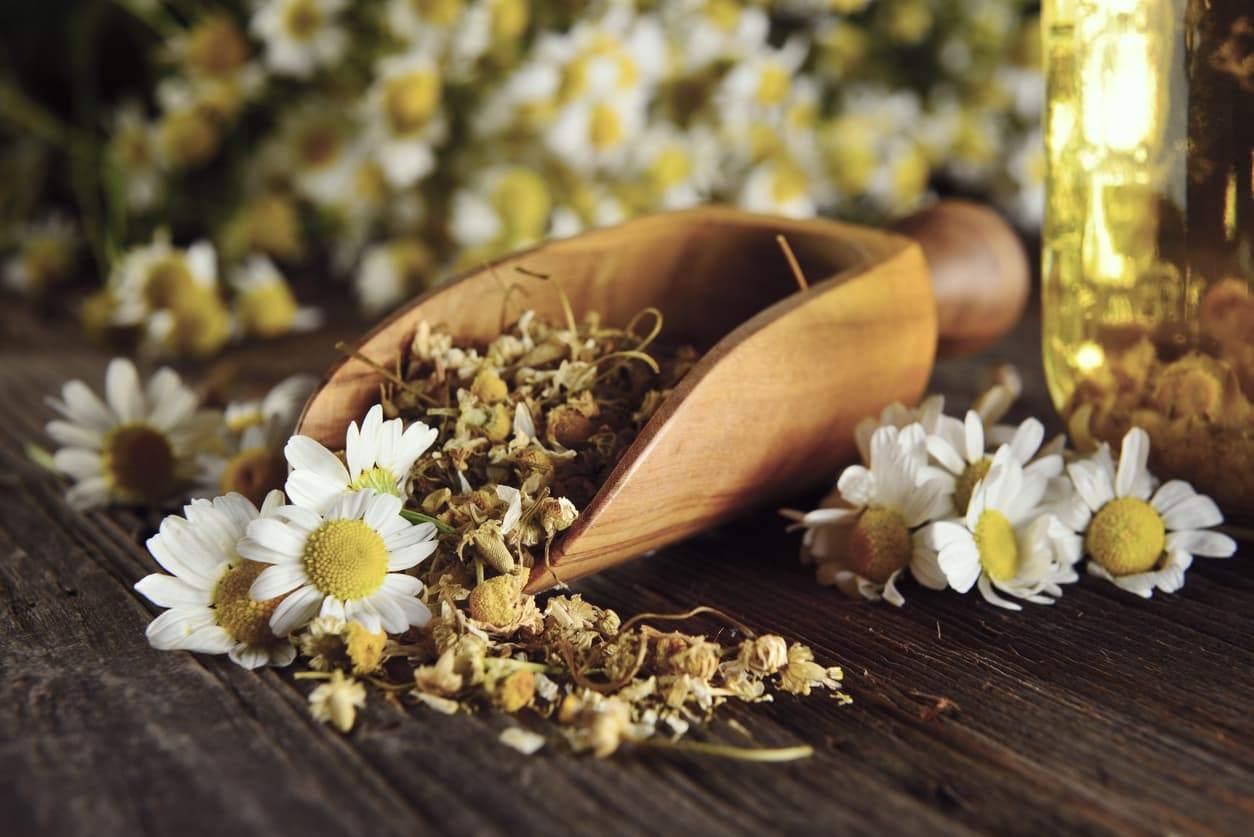 Welcome back to The Naturopathic Kitchen. Your kitchen is a mainstay in supporting a healthy lifestyle. This week, we will highlight the popular herb, chamomile. Among the best-known herbs, chamomile is good for more than just a cup of tea. Together, we will learn where it comes from, how it benefits our body and share a couple of great chamomile recipes for you to try!
Chamomile 101
Herbs have played an integral role in human health for thousands of years. Archaeological evidence of the use of medicinal plants dates back approximately 77,000 years.1 Chamomile is one herb that is fairly familiar to most people for its use as a sedative tea. However it's interesting to note the history of chamomile goes much deeper than a simple cup of tea.
The term chamomile is derived from the Greek term, "Chamomaela," meaning "ground apple."2 Early scientific texts reference the similarity of the smell of a chamomile flower to an apple blossom, and this is thought to be the source of the name.
The earliest uses of chamomile date back to ancient times. References to chamomile are found in medicinal writings of the ancient Egyptian, Greek, and Romans. It was used as a fever remedy during the times of the Egyptian pharaohs.2 The crushed  flowers were also rubbed on the skin as a cosmetic. The Egyptians used the essential oil of chamomile as a main ingredient in the embalming oil used in the mummification of deceased royalty and pharaohs.2 The ancient Greeks used chamomile medicinally as well. The writings of Hippocrates, Dioscorides, and Galen contain detailed descriptions of the chamomile plant.3 The Romans used chamomile to flavor drinks and in incense, as well as a medicinal herb.
Moving forward to medieval times, chamomile petals often lined the ground at gatherings. The crushing effect created by people walking over them created a pleasant aroma. Chamomile was also used to flavor beer before hops were put to that use. Contemporary use includes Eastern European countries like Romania, where school children are asked to collect the herb and bring it to school.4
Where does chamomile come from?
Though their appearance is very similar, what is generally called chamomile today is actually two separate plants. One variety is Roman or English chamomile, botanically known as Chamaemelum nobile that is native to Western Europe and North Africa. It is considered "true chamomile." The second variety, commonly known as German Chamomile, is Matricaria recutita which is native to Europe and Asia. This variety is considered "false chamomile." Both have been widely cultivated in modern times are often used interchangeably.
Chamomile is an old-world plant that is not native to North America. It made its way here with the colonists and eventually became part of the natural landscape. It can now often be found in yards, fields and gardens across the US. Chamomile can easily be grown at home or wildcrafted from outdoor spaces. Chamomile tea is widely available in nearly all supermarkets and dried whole herbs can be purchased from any number of purveyors of whole herbs.
How does chamomile help my health?
Chamomile is generally known for its sedative properties.5 Chamomile tea is often given to children to help calm them for sleep at night. In addition to its use as a sedative, both the Roman and German forms of the herb have been used medicinally as antispasmodics, anti-inflammatories, as well as for anti-microbial properties.2 Chamomile has uses both internally and externally.6 Externally it has been used to treat skin and mucous membrane inflammation, as well as bacterial skin diseases, including those of the oral cavity and gums.6 Both forms are also used in beauty products because they naturally soften and lighten skin and hair as well as treat acne and other skin problems.7
What medical conditions/symptoms is chamomile used for?
When should chamomile be avoided?
Although chamomile has a long history of safe use and is listed on the Food and Drug Administration's GRAS (Generally Recognized as Safe) list, allergic reactions are rare but possible. Individuals who have a sensitivity to asters, chrysanthemums, ragweed, and other members of the Asteraceae family may cross-react to chamomile as well.
Let's try out chamomile with these delicious and nutritious recipes!
Strawberry Chamomile Chia Pudding

INGREDIENTS
1/2 c boiling water
4 chamomile tea bags
1 c strawberries, stemmed and quartered
1/2 T ginger, grated
2 T maple syrup
7 T chia seeds
1 c unsweetened cashew milk
1/4 c strawberries, fresh, stemmed, sliced
1/4 c raw pistachios, roughly chopped
INSTRUCTIONS
Combine the boiling water and tea bags and let steep 15 minutes.
Squeeze water out of the tea bags, then discard them. Let tea cool completely.
Combine the chamomile tea concentrate with the strawberries, ginger and maple syrup in a blender. Blend until smooth.
In a medium sized bowl, combine the strawberry mixture with the cashew milk and chia seeds.
Stir vigorously until seeds are well combined.
Let sit at room temperature 10 minutes.
Stir vigorously again. Cover and chill in fridge overnight (8 to 12 hours. See Notes.)
When ready to serve, remove from fridge and give one final vigorous stir.
Place pudding in bowls and top with fresh strawberries and roughly chopped pistachios.
Thank you to Mid-Life Croissant for this great recipe!
Raw Chamomile Ginger Lemon Energy Bars

INGREDIENTS
1/2 c cashews
1/2 c walnuts
1 1/4 c dates or dried apricots
2 T whole flax seed
1 T dried chamomile
1 T freshly grated ginger
Juice of 1/2 lemon
2 t vanilla extract
INSTRUCTIONS
Place nuts, dried fruit, and flax seeds into a food processor and blend until chopped up and combined.
Add in rest of ingredients until thoroughly fused.
Form into whatever shapes you prefer.
Store in an airtight container in refrigerator.
Thank you to One Green Planet for this tasty recipe!
Learn More About Becoming a Naturopathic Doctor
Receive information from the accredited schools of your choice located across North America!