Income Expectations for Naturopathic Physicians
While income may not be the most important factor for graduates of naturopathic medical school, we recognize that applicants want to feel secure in their ability to make a living and pay off student loan debt. The AANMC conducted its 2015 Graduate Success and Compensation Study in an effort to help prospective students understand their income expectations once they become practicing naturopathic physicians.
Additionally, AANMC, our member schools, and professional associations actively work to increase job opportunities, student loan reimbursement options, and insurance coverage for ND care.
Graduates who use their naturopathic medical degree in a full-time position have seen their annual pay more than double since prior to enrolling in school.
Supporting information from our survey:
Naturopathic medical professionals practicing full-time earn about $90,000 annually on average in the U.S., compared to about $39,000 before entering school.*
In Canada, they earn about $74,000, compared to about $34,000 before entering school.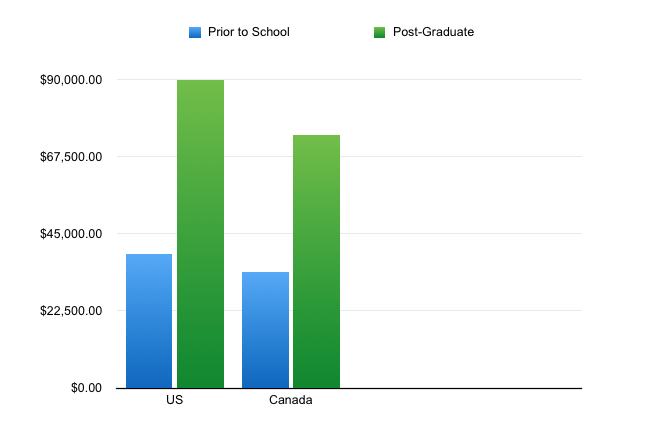 *34% of participants were unemployed before attending ND school
Note – It takes the majority of graduates 3-5 years to establish a private practice. 
Graduates who use their naturopathic medical degree in a part-time position (32 hours or less) have seen their average salaries steadily increase the longer they work in the naturopathic medical field.
Supporting information from our survey:
The average salary of graduates who work part-time in the field is about $47,000 in the U.S. and $50,000 in Canada.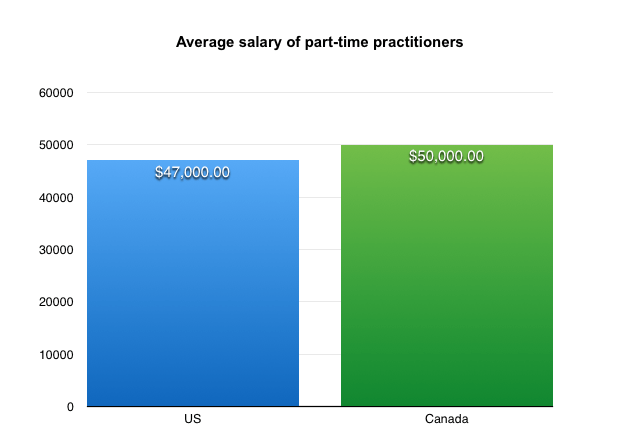 As is the case with graduates who start or enter a business in any field, financial success for naturopathic medical school graduates won't happen overnight. But average salaries are shown to grow steadily over time for those who invest the time, commitment and resources necessary to be successful.
How an additional degree can increase your income…
Graduates with an additional degree, working full time, earn an average of $5,000 USD more annually than graduates with an ND alone.
How much more (in USD) an additional degree can earn you
Beyond financial considerations NDs have a better work-life balance.
In addition to financial considerations, naturopathic medical professionals typically place a high value on maintaining a healthy work-life balance, and many in the field find they are able to meet that goal.
Supporting information from our survey as well as information gathered from Mayo Clinic:
Percentage of naturopathic medical graduates satisfied or very satisfied with their work-life balance

70%

70%

Percentage of physicians in the U.S. that are satisfied or very satisfied with their work-life balance

41%

41%