Boucher Institute of Naturopathic Medicine (BINM)
Vancouver, British Columbia, Canada

Contact Boucher Institute
Mailing address:
230-435 Columbia Street,
Westminster, BC, Canada V3L 5N8
Phone: 604.777.9981
Fax: 604.777.9982
Clinical and laboratory diagnosis
Acupuncture & Traditional Asian medicine
Your BINM experience: Connected, intentional learning.
Recognized for small-class sizes (average of 30 students per cohort), mentorship-based learning, and an enriching cohort model, the BINM program is designed to offer maximum interaction with professors, peers and supervisors. Cohort models create better doctors. The Boucher experience fosters creativity, builds leadership skills, and encourages greater academic progress.
The cohort structure delivers an active, interactive, and dynamic setting for students to grow their knowledge and skills.
As students study together, they develop relationships —learning that transcends course material to life skill training. The Boucher cohort program more effectively trains students in the on-the-job skills they need to succeed as Naturopathic Doctors.
Become part of a vibrant campus life.
While we offer students the highest standard of education, we also strive to create a community that is safe, respectful, and grounded in integrity. Our policies and values support academic freedom, inspire and promote self-responsibility, strive for innovation, and support sustainability. BINM is a community that believes every member should feel heard, valued and supported on their journey of self-discovery and academic excellence.
I am a BINM Graduate. I am a NATUROPATHIC DOCTOR.
"My experience was defined by my classmates. Over four years we experienced every range of emotion, from pure bliss to total defeat. But we did it together, as a group. And that shapes you. We entered as wide eyed and eager students, and transformed into professionals ready to tackle the rigors of the real world."
– Dr. Michael Long, ND.  Optimum Integrative Health Centre, Fergus, Ontario
Discover you life's work. Join us.
Want to learn more?  Visit us at www.binm.org for admissions dates and deadlines or contact our Admissions Department to visit our campus and experience the difference an Intentional Education can make to your future.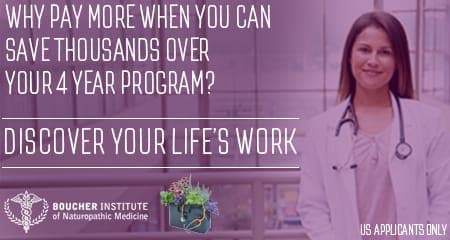 A Letter to Prospective Students
Take advantage to save thousands of dollars on your naturopathic medical tuition.
IMPORTANT DATES AND DEADLINES
April 30, 2018  Application deadline for Fall 2018 session
All deadlines are at 11:59 PM EST
* Applicants who meet this deadline will be given priority consideration for seats. Late applicants are accepted based on seat availability.
Meet the Boucher Institute representatives available to help you.
Please note: Due to student loan requirements, the January cohort will have two enrolments contracts (contract A covers terms I-II and contract B covers term III of 1st year and terms I-II of second year). Students requiring loans will have to apply for aid for each contract.
TRANSFER INTO YEAR 3
Students from other CNME-accredited naturopathic medical programs may apply for transfer consideration into year 3 of the BINM program provided he/she is eligible to write NPLEX I (see Transfer Applicants from Other CNME-Schools for details) and dependent on seat availability in the BINM cohort. Please contact the BINM Admissions Department to determine if a seat is available at: admissions@binm.org
*The above schedules are subject to change.