Licensure for naturopathic doctors provides many benefits:
Allows for better patient healthcare.
Creates public safety in relation to alternative therapies.
Reduces healthcare costs via prevention.
Ultimately has a positive effect on the entire medical community.
In order to be licensed as a primary care, general practice physician by a state or jurisdiction which requires licensing, one must:
Graduate from a four-year, professional-level program at a federally accredited naturopathic medical school.
Study a curriculum which includes current medical science and traditional naturopathic theory.
Take and pass national board exams: Naturopathic Physicians Licensing Exam (NPLEX). This rigorous exam covers basic sciences, diagnostic and therapeutic subjects and clinical sciences.
Licensed states and provinces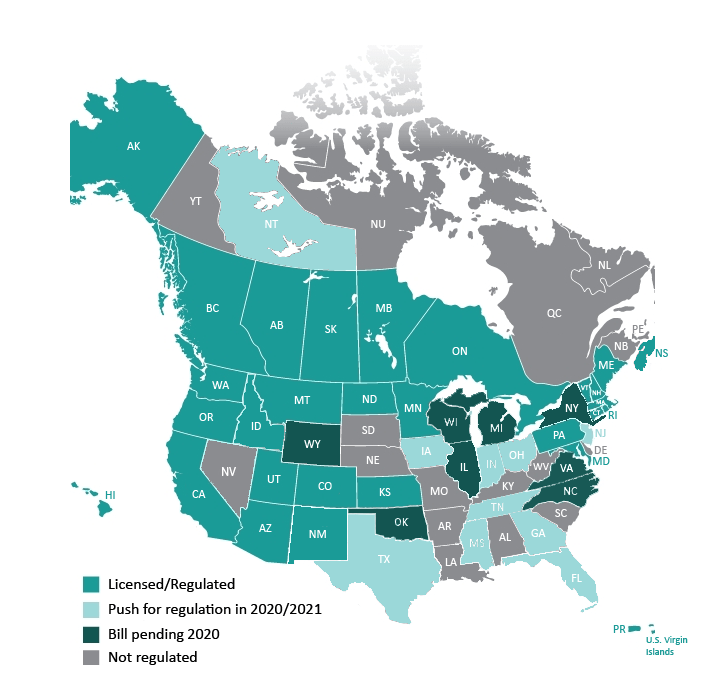 Candidates for full licensure must also satisfy all licensing requirements for the individual state or province in which they hope to practice. Most of the states and provinces that license naturopathic physicians also have health care systems which allow patients to use naturopathic doctors as their primary care physician.
Currently, 22 states, five Canadian provinces, the District of Columbia, and the US territories of Puerto Rico and the US Virgin Islands all have laws regulating naturopathic doctors (NDs). In these states and provinces, naturopathic doctors are required to graduate from a four-year, residential naturopathic medical school and pass an extensive postdoctoral board examination (NPLEX) in order to receive a license or registration.
Licensed naturopathic physicians must fulfill state- or province-mandated continuing education requirements annually, and have a specific scope of practice defined by the law in their state or province.
States currently offering licensure or registration to naturopathic physicians include:
Alaska
Arizona
California
Colorado
Connecticut
District of Columbia
Hawaii
Idaho
Kansas
Maine
Maryland
Massachusetts
Minnesota
Montana
New Hampshire
New Mexico
North Dakota
Oregon
Pennsylvania
Rhode Island
Utah
Vermont
Washington
U.S. Territories: Puerto Rico and U.S. Virgin Islands
For more information on licensure in the United States, please visit the American Association of Naturopathic Physicians website.
Provinces currently offering regulation and registration to naturopathic physicians include:
Alberta
British Columbia
Manitoba
Ontario
Saskatchewan
Scope of practice regulations vary among licensed/regulated states and provinces, as do the parameters and restrictions for practitioners located in as yet unlicensed venues. Legal provisions still allow naturopathic doctors to consult with patients, making recommendations and suggestions based on prior diagnosis, in several of the yet unlicensed states and provinces.
For more information on licensure in Canada, please visit the Canadian Association of Naturopathic Doctors website.