What Can I Do With My Naturopathic Medicine Degree?
While many choose naturopathic medicine as a profession because they want to care for patients, it's not the only work naturopathic doctors can do.
Naturopathic medical education provides the foundation for many rewarding career choices. Your ND degree from an accredited institution affords a strong background in the medical sciences, clinical diagnosis and treatment, and the forefront of evidence-based natural therapies.
While many graduates choose to focus their energy developing one pathway, a growing number combine one or more of these areas for professional flexibility and for the ability to create the work/lifestyle balance that is best for them.
Clinical
Upon becoming a licensed naturopathic doctor many NDs want to immediately begin practicing, and they have a couple of options available to them. They can focus on general medicine (colds, flus, asthma, etc.), and treat anyone that makes an appointment, or they may decide to have a more specialized practice focusing on heart disease, diabetes, etc. They may also choose to specialize in treating a specific group of the population. Such as women's or men's health, sports medicine, pediatrics, etc. To learn more about naturopathic specialties, click here.
Basic tasks of a naturopathic doctor in a clinical setting
Interview patients to document symptoms and health histories, including identifying data, chief complaints, illnesses, previous medical or family histories, or psycho-social characteristics.
Advise patients about therapeutic exercise and nutritional medicine regimens.
Administer, dispense, or prescribe natural medicines such as food or botanical extracts, herbs, dietary supplements, vitamins, nutraceuticals, and amino acids.
Educate patients about health care management.
Diagnose health conditions based on patients' symptoms and health histories, laboratory and diagnostic radiology test results, or other physiological measurements, such as electrocardiograms and electroencephalographs.
Conduct physical examinations and physiological function tests for diagnostic purposes.
Maintain professional development through activities such as post-graduate education, continuing education, preceptorships, and residency programs.
Order diagnostic imaging procedures such as radiographs (x-rays), ultrasounds, mammograms, and bone densitometry tests, or refer patients to other health professionals for these procedures.
Administer treatments or therapies, such as homeopathy, hydrotherapy, Oriental or Ayurvedic medicine, electrotherapy and diathermy, using physical agents such as air, heat, cold, water, sound and/or ultraviolet light to catalyze the body to heal itself.
Administrative
While some advanced training and experience may be required for some positions, there are a number of options available on the administrative side as well. You can chose to focus on the management side of health care, non-profit leadership, even corporate and/or public health.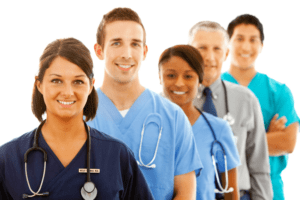 Who better to offer you input and advice about a career in naturopathic medicine than past and current students?
Read More
Academic
Ever considered becoming a teacher? With a doctorate of naturopathic medicine you can do just that. You can teach at an ND school, any university or community college, and many other educational institutes. You can also choose to focus on research in your own clinic or by working for a health company as a research director.
Entrepreneurial
You can even be an ND that specializes in writing, radio and television appearances, public speaking, and more. If you like to write, combine your love of naturopathic medicine and writing and become an author. Love spreading the word about naturopathic medicine? Become a public speaker or corporate health coach. Combining naturopathic medicine with the things you are already passionate about is a great way to determine your career path.
Learn More About Becoming a Naturopathic Doctor
Receive information from the accredited schools of your choice located across North America!
Shape Your Career
Deciding whether you want to teach, do research, or pursue an alternative career? Explore Careers in Medicine to learn more about career paths in naturopathic medicine and the steps to get there.