With a worldwide prevalence of 10-20%, irritable bowel syndrome (IBS) is an exceedingly common functional bowel disorder.1 Diagnosis is complex because IBS is typically made as a diagnosis of exclusion. This means that all other potential causes need to be ruled out before the diagnosis is confirmed. Symptoms of IBS can include: abdominal pain, irregular bowel habits, alternating constipation and diarrhea, gas, and bloating.2 Often times, these symptoms can be quite restricting to an individual's quality of life. People who suffer from IBS report having to limit their activity levels about 20% of the time, and also experience a poor health-related quality of life.3 Pharmaceutical-based treatment options are minimal, with only two strongly recommended drugs available.4 An IBS diagnosis can also result in significantly increased medical costs. IBS patients incur around 50% more health care costs than those without IBS.1 In the US alone, IBS costs are estimated at some $20 billion annually.5 The combination of loss of quality of life, limited medical treatment options, and elevated costs of treatment lead many to seek out other means of treatment, including naturopathic medicine.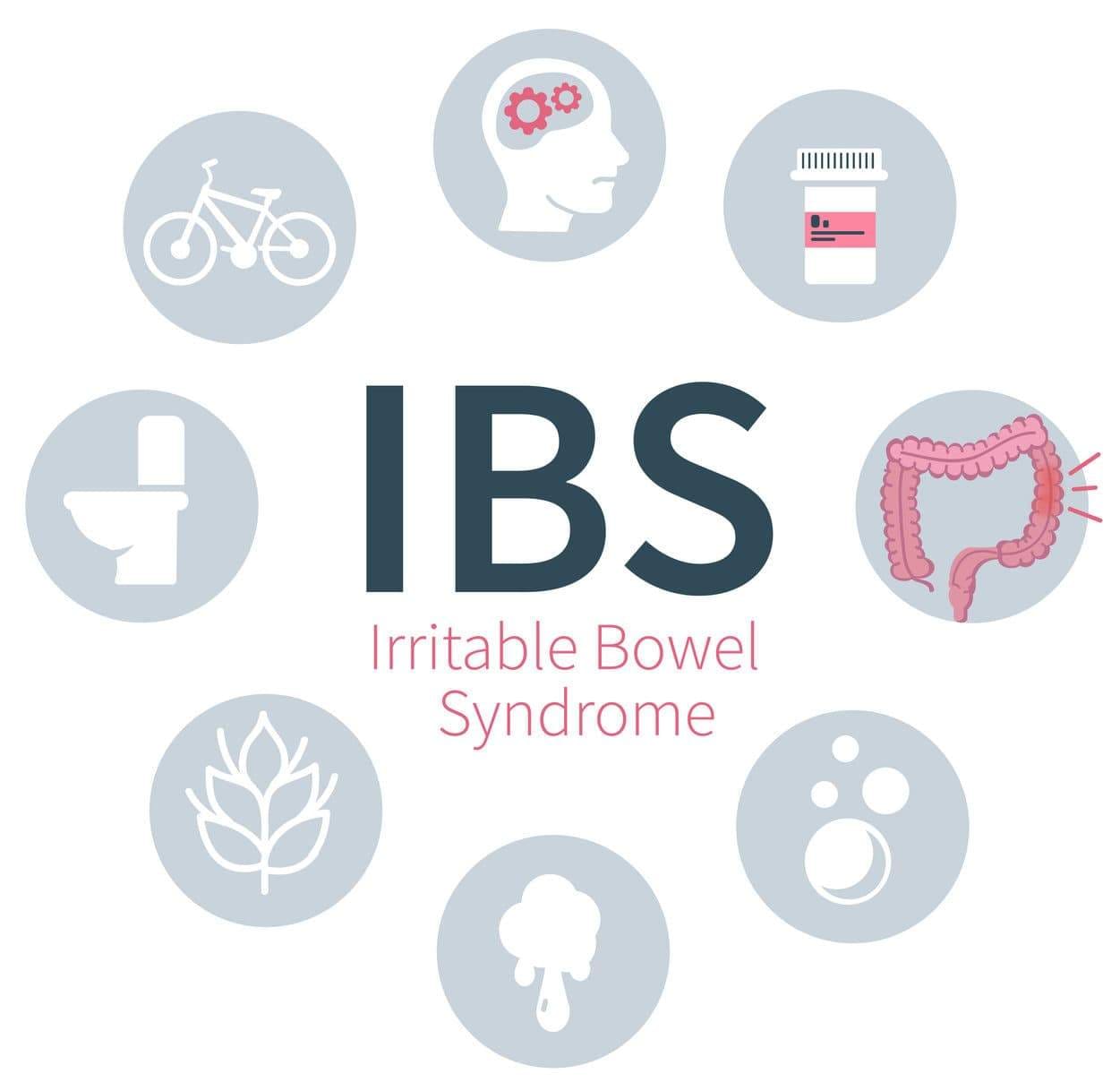 "IBS is a disorder with a complex set of triggers, none of which would be individually sufficient to produce symptoms, but may do so when combined. Food sensitivities, unbalanced flora, and improper fermentation can set up a condition in the gut that then only takes a trigger, like emotional or physical stress or a dose of sensitive food, to cause reactions and symptoms. Natural treatment is based on the concept of 'The Four Rs': Remove, Replace, Re-inoculate, and Restore."
IBS can be a frustrating condition to manage, with at least half of sufferers turning to therapies outside of conventional allopathic medicine. In one survey, approximately 10% of individuals who used alternative medicine for a gastrointestinal complaint reported using naturopathy.6 The systematic approach and individualized care provided by naturopathic physicians involves the integration of modern medical knowledge with natural treatment options. Research confirms that naturopathic approaches to IBS are distinct from those offered in a conventional medical setting.1
"When I see a new patient, I give them a very detailed digestive health questionnaire that helps me to understand their risk factors for various GI conditions, their current symptoms picture and what kinds of things trigger their symptoms. I then spend about an hour speaking with them, going over their history and performing a physical exam to make sure I fully understand the picture. If I find that additional testing or referrals are necessary, I may also order these at the first visit."
"Most patients who visit my practice have tried eliminating foods from their diets, seen many providers, performed numerous GI tests and still don't have answers for why they don't feel well. IBS generally does not start over night. So, I try to determine, what has brought the patient to this point? I like to consider myself trained as a detective as well as a naturopathic doctor to understand the why this person has developed IBS. An initial patient visit should be extensive. I cover a thorough time line of health history, evaluate past health records, document treatments tried and understand who my patient is as a person. It's my goal to think outside of the box for events that could have led to the development of IBS. Once I have an understanding of the most likely reason for their distress, I systematically start there, while working through other possibilities."
"I take a complete history, including other systems that may be disturbed by the digestive imbalance. I look at dental history, NSAID and antibiotic use, other allergies and diagnoses, immune and liver function and microbiome condition. When necessary I will order lab tests, food sensitivities and allergy panels, SIBO breath tests, flora and stool analysis, micronutrient assays, as well as any indicated standard testing. The aim is to find which set of symptoms that the patient is showing and to tailor an individualized treatment plan to meet the root cause."
Though not all treatments work for all individuals, there are a number of means by which naturopathic medicine addresses the underlying functional imbalance associated with IBS.
Manage Mental and Emotional Stress
The gut is home to the "enteric nervous system" also known as the 'second brain'.7 This intricate neuronal network allows us to feel the inner world of the gut and its contents. Digestion is the main duty of this system, which includes breaking down ingested foods, absorbing nutrients, and eliminating wastes, and the synchronized muscular contractions that move it all along. As many experience, digestion can be intimately related to an emotion or stressor. It is very common for chronic digestive issues to be connected to an emotional or stress component. Those with IBS often present with accompanying disorders including those impacting the mental/emotional state. Studies have shown that patients with IBS report an average of five (four physical and one mental-emotional) additional conditions.8  Researchers went on to note that specific diagnoses, such as generalized depression, anxiety, insomnia, and tension headaches, were associated with decreased quality of life, greater impairments to mental and physical function, distress, more severe symptoms of IBS, and worse pain symptoms.8 Developing a strategic program to help manage stress and realign the balance of the nervous system can be integral to managing chronic digestive disturbances. Implementing activities such as mindful breathing, yoga, earthing, qigong, tai chi, journaling, and many other techniques can be helpful in reducing stress and reconnecting with the body.
"I ask the patient to keep a diet diary that includes symptoms, bowel movements, and self-care, like meditation and exercise. This serves as an educational tool for them to become aware of what they are eating and how it relates to their digestive health."
Dietary Considerations
The use of food as medicine is as old as the practice of medicine itself. When it comes to IBS, food plays a central role in that many people with IBS note significant association between the foods they eat and the appearance or exacerbation of their symptoms. More than 60% of patients with IBS report the onset or worsening of symptoms after meals, alterations happened within 15 minutes in 28% and within three hours in 93% of these patients.9
"Identification and elimination of food sensitivities and allergies is the first thing that should be addressed. I commonly use an elimination/challenge diet because it is diagnostic and therapeutic at the same time, but some patients prefer lab testing. We also need to eliminate foods and habits that irritate the gut alone, like alcohol, coffee, smoking and not coping well with stress. The basis of the diet for this period of time should be whole food, plant centered, and properly prepared (cooked), to provide rest for the digestive system."
Some examples of dietary considerations that may be helpful in IBS management include:
Assess and address food sensitivities, intolerances, and allergies
Although it can be extremely difficult to identify single, specific food items that are causing a reaction, a staggering 84% of IBS patients report consumption-related symptomatology to at least one food item.9 A food intolerance is a nonimmune-mediated adverse reaction to food that can be caused by any (non-protein) food component, and is much more common than food allergy. 10 Studies have shown that those with IBS will try to extrapolate which foods cause them the most issues, revealing that 62% of IBS patients limit or exclude foods from their diet.11 Among the most common methodologies for determining adverse food reactions is an elimination and challenge trial. This is typically a multi-phase protocol that involves short term (typical time frames are three to six weeks but it can be longer) elimination of a specific food, category of foods, or even several categories of foods then consuming the suspected foods again one at a time to monitor for potential reactions. The impact of elimination diets can be very profound. One study of IBS patients who underwent an elimination diet demonstrated statistically significant improvements in stool frequency, pain, and quality of life scores.12
Increase fiber Intake
Inadequate fiber intake is extremely common in modern society with less than 5% of people actually getting the recommended basic 19-38 grams daily.13 Fiber is well known to improve a number gastrointestinal complaints, and is among the most often suggested dietary interventions in primary care.9 Fiber helps to support normal bowel function and elimination habits. A note of caution however, in some instances fiber may cause an increase in gas and bloating due to bacteria in the digestive tract producing gas as they metabolize the fiber. In these instances, balancing gut bacteria with adequate probiotics can be helpful.
Special diets
Food elimination through various dietary protocols provides structure and can help patients identify and remove food allergies or sensitivities. Examples of dietary systems that include an elimination component include gluten free, Paleo and low-fermentable oligosaccharide, disaccharide, monosaccharide, and polyol better known as low-FODMAP. Patients who reduce their FODMAP intake have noted improvement in abdominal pain, bloating, and flatulence. Some studies have reported that a gluten-free diet reduces diarrhea as well as abdominal pain and bloating.10
The standout therapy when it comes to managing IBS is the low-FODMAP diet. This dietary system was developed by Drs. Peter Gibson and Susan Shepherd of Monash University. FODMAPs are short chain polysaccharides that are limited in small intestine absorption but are highly fermentable by the bacteria in the small intestine to form short-chain fatty acids.14 The low-FODMAP diet has been shown in at least 10 randomized trials to result in a positive clinical response in 50%-80% of patients with IBS, with improvements in bloating, flatulence, diarrhea and global symptoms being among the most notable.15  A low-FODMAP diet involves three stages.16 Stage one is classified as an elimination phase, which lasts between three and eight weeks and involves strict elimination of all high-FODMAP foods. Stage two is the re-introduction phase where high-FODMAP foods are reintroduced one at a time for cycles of three days each. This phase allows an individual to both determine which selective FODMAPs they are sensitive to (since it is uncommon to be sensitive to all of them) and how much FODMAP they can tolerate. In stage three, a long-term personalized FODMAP protocol is implemented based on the findings from stage two. This final stage is important for supporting long term compliance through dietary variety and flexibility, which are linked to improvements in both quality of life and overall gut health.17
Supplements and Herbal Options
It is always the goal in naturopathic medicine to find and remove the cause of disease, however in some chronic conditions, this can take time and patience. While naturopathic therapies are at work, supplements and botanicals may be used to manage and decrease the expression of symptoms.
"I will often prescribe herbs to help the gut heal and restore to proper function. The goal of botanical medicine in this is always aimed at restoring function and reminding the body to heal itself. The herbal combinations are chosen for the individual's symptoms. Demulcent herbs like Deglycyrrhizinated licorice and slippery elm coat and soothe the mucosa layer, allowing the underlying cells to heal. Glutathione directly feeds the gut cells.  Anti-microbial herbs like mahonia (Oregon grape root) and hydrastis (goldenseal) to help balance yeasts and bacterial overgrowth. Enteric coated peppermint or valerian root can address cramping and spasm in the bowel. Fiber sources like flax, chia and psyllium pull double duty as fiber and mucilage."
The use of herbs and other supplements can help relieve symptoms. The following herbs/supplements have been shown to help manage IBS:
Probiotics: Probiotics have long been a go-to therapy for intestinal conditions, and IBS is no exception. There is a growing body of scientific evidence connecting the response to changes in the enteric microenvironment to IBS symptoms, suggesting that strategies that modulate the gut microbiome could be beneficial in IBS. Additional studies delineating the role of gut bacteria in influencing function such as gut motility, intestinal and colonic barrier integrity, visceral sensation, as well as reciprocal actions between the gut and the brain further support the role of the micro biome in IBS.18 People with IBS can have a variant composition of commensal gut bacteria including Bacteriodes spp., Bifidobacterium spp., Lactobacilli spp. and others compared to healthy controls.19 Improving the balance of gut bacteria with probiotics can help modulate IBS symptoms via multiple mechanisms. Because microbes in the intestinal microbiome compete for both nutrients and space, probiotics can limit the availability of both to pathogenic bacteria. Probiotics also leave fewer binding sites for pathogenic bacteria and secures substances that create an inhospitable environment for pathogenic microbes.19 Probiotics have also been demonstrated to enhance and protect gut barrier function as well as produce an anti-inflammatory effect.19 There is ample evidence to suggest that probiotics would benefit those with IBS.
Berberine: Berberine is not an actual herb, but an alkaloid compound derived from plants such as Oregon Grape, Barberry, and Goldenseal. It has a long history of use in both traditional Chinese and ayurvedic medicine. Berberine is available in extract form as a dietary supplement. Traditional use of berberine has been proven to have many pharmacological effects, including antimicrobial, anti-tumor, anti-inflammatory and blood glucose–lowering effects.20 Studies examining the use of berberine in patients with IBS found that berberine was well tolerated. It also reduced the frequency and urgency of bowel movements as well as the frequency of abdominal pain. Non-digestive quality of life measures such as anxiety and depression also showed improvement trends.21
Peppermint Oil (Mentha piperita): Peppermint is a carminative herb. It prevents the formation of gas or promotes expulsion of gas from the intestines. Reduced ability to expel intestinal gas with consequent gas trapping and bowel distension may contribute to abdominal discomfort/pain and bloating associated with IBS.22 Peppermint oil has a broad range of medicinal properties that may be relevant in treating the IBS patient including acting as an antispasmodic, antimicrobial, anti-inflammatory, and antioxidant as well as having immunomodulating and anesthetic activity.23 A double blind study of enteric coated peppermint oil revealed a 40% reduction in total IBS symptom scores compared to baseline.23 Additional studies confirm the benefit of peppermint oil for statistically significant treatment of abdominal symptoms of IBS. 24,25
Artichoke (Cynara scolymus): Cynara scolymus is a plant native to the Mediterranean region and is a member of the thistle group of the sunflower family.26 Artichoke has been used as an herbal medicine since ancient times and has a number of beneficial properties. It is well known for its use as a digestive support- aiding in the formation and secretion of bile which helps support the digestion of fats. It also has antioxidant, anti-inflammatory, liver protective and cholesterol lowering properties.27 Interestingly, although we eat the flower bud of the plant as food, the compounds associated with its medicinal qualities are concentrated in the leaves rather than the favored bud.28 Cynara scolymus leaf extract has also demonstrated both curative and preventive roles when it comes to management of IBS. In a study of individuals who suffered digestive disturbance, but were otherwise healthy, treatment led to a 26.4% decrease in IBS incidence and a 41% decrease in IBS type digestive symptoms.29 This included a significant shift in bowel habits to a more regular pattern versus the oscillating diarrhea and constipation that is common in IBS. Additional studies of artichoke leaf extract in individuals diagnosed with IBS revealed that over a six week treatment period, there was a significant reduction in the severity of symptoms with 96% of participants rating artichoke leaf extract as equal or better than previously administered therapies.29
Move that body!
Exercise is an essential part of a healthy lifestyle. The benefits of exercise for systems such as the cardiovascular system are well-known. Perhaps lesser known are the benefits to the digestive system. One study revealed that after six weeks of treadmill-based aerobic exercise, there was a significant improvement in the severity of IBS symptoms and quality of life scores compared to a control group as well as compared to before and after exercise intervention.30 Additional studies have confirmed the benefit of exercise on both IBS symptomatology as well as quality of life measures such as emotion, sleep, energy, physical functioning, and social and physical role were significantly improved in IBS sufferers who exercised regularly.31
NDs share IBS patient success stories
"I have a 28-year-old female patient who is in a master's program and enjoys spending time working outside raising animals. She had a history of IBS associated with heavy, painful menses but otherwise normal GI health. After foreign travel, increased stress and some general illnesses, she developed urgent IBS-d. This urgent diarrhea greatly affected her daily life, making tending animals and leaving the house for school difficult. She had tried multiple food eliminations, herbal teas, probiotics and other supportive therapies she could find online without much improvement. Her main strategy was to avoid eating which could prolong her day away from a restroom until she was home at night.
Homeopathic podophyllum provided immediate relief for the explosive, urgent diarrhea which allowed her to feel more comfortable leaving the house. Further work revealed issues with GI dysbiosis and pancreatic insufficiency. After a few different herbal and pharmaceutical treatments to correct the dysbiosis, discovering the right pancreatic enzyme and focusing on stress reduction/sleep improvement, one year later she is having one-two non-urgent, well-formed stools per day while maintaining a healthy diet."
"A 38-year-old male patient presented with symptoms of IBS which included abdominal pain and distension. These symptoms were relieved with bowel movements that were urgent, frequent, and loose. He had been experiencing these symptoms for six months, and his quality of life was slowly deteriorating. He stopped going to restaurants with his family, as he felt extreme anxiety at the thought of being unable to control his pain and bowel movements. He traveled for work frequently, and would not eat meals with his colleagues, surviving on ginger ale, nut bars and Imodium. When he came to see me, his anxiety was heightened as his wife was asking for a separation. After gathering a full history and completing a physical exam, the assessment of IBS was made. I recommended dietary changes, botanicals and supplements to control his anxiety and GI symptoms, and counseling was provided to help him grieve the end of his relationship. After three months, his symptoms were better controlled, and while he was still struggling with the divorce, his quality of life had improved, he had started his own business, was relying less on Imodium. He was able to travel and control his IBS and anxiety with botanicals and supplements. Today, he is in a new relationship, and although his IBS symptoms flared up briefly when he started dating, he enjoys his life, eats a variety of foods, and travels without anxiety. This case really helped me understand the gut-brain axis and its influence on the balance of health."
"A female in her mid-40s presented with a six-month history of abdominal pain, loose stools and nausea.  Her symptoms started around the same time that the she had undergone significant stress with work and family. She was diagnosed with IBS-D and recommended to take Imodium as needed for the loose stool and to reduce stress. She did this, however the symptoms never really resolved which brought her in to see me. I gave her a gut healing protocol with glutamine, herbs and digestive enzymes which helped a little, but also did not resolve her symptoms. It became clear that her symptoms were worse with some meals so we investigated food intolerances and found that she reacted to wheat, dairy and eggs. She eliminated these from her diet and her symptoms improved slightly more, but not completely. At this I ordered a small intestinal bacterial overgrowth (SIBO) breath test, which was positive. Of note, the only risk factor she had for SIBO was stress.  I treated her SIBO and all her GI symptoms resolved. While she still had mild reactions to wheat, dairy and tomatoes, she was able to tolerate them much better after SIBO treatment.
Depending on the study, somewhere between around 60-80% of patients with IBS test positive for SIBO. This may be what is causing all their digestive symptoms and, in my opinion, is important to consider when determining treatment approaches. If SIBO is present, it is the first thing I work. If SIBO is missed, you won't generally get very far with the IBS treatment until it is addressed."
"I had a patient that had been treated for years for IBS exclusively with medications, to little effect. She had what she called 'unpredictable' gas and stool urgency, with many loose bowel movements a day, constant cramping, and bloating after meals. She also suffered from headaches and depression, insomnia and fatigue, and had different medications for each. She was told she would have to deal with the symptoms, and that they would likely get worse as time went on. She called me in what she saw as a last-ditch attempt to get some relief. She was on a diet of mostly processed foods; particularly wheat-based. I convinced her to do a basic elimination for two weeks, focusing on eliminating wheat and increasing vegetables. We also addressed the daily stress she was under and gave her some good ways to deal with it in a healthy way.
She left hopeful for the first time in years. A month later she reported having had solid bowel movements consistently through the weeks, and significant improvement in gas and bloating. She was sleeping better and hadn't had a headache since the second week. She even found the energy to start an exercise routine. She had seen the immediate effect from removing offending foods, and using enzymes and probiotics, and found it was worth the effort. At six months she was thriving for the first time in decades and had become a vocal advocate for gut health. She even led a meditation group for her stress-filled office in an effort to improve her surroundings."
Due to the complexities of IBS and the intricacies of the workings of the human digestive tract, a single treatment is unlikely to be fully beneficial for managing IBS symptoms effectively. Using a multi-pronged approach that takes advantage of the various approaches available is more likely to result in adequate symptomatic control and management of the condition long term.
For questions about how naturopathic doctors treat patients with conditions like IBS, click here to find an ND near you in the United States or Canada. The Gastroenterology Association of Naturopathic Physicians (GastroANP) is also a great resource!
Learn More About Becoming a Naturopathic Doctor
Receive information from the accredited schools of your choice located across North America!