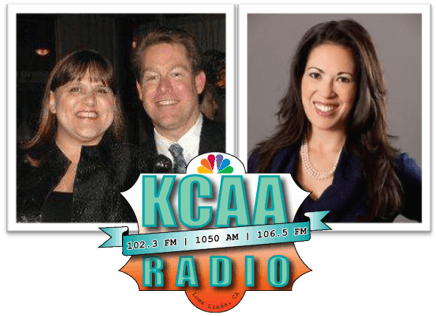 Dr. JoAnn Yanez, AANMC Executive Director, joins KCAA's NBC LA affiliate On the Brink to discuss heart health and lessor known strategies to improve it.
Full Transcript of Interview Below.
Topics Include:
How to improve your heart health
Lesser known steps to improve your heart health
Living in the new normal
Erin Brinker:
Hold that thought. Hold that thought, we have Dr. Yanez is back, Dr. JoAnn Yanez. But can you hear us?
Dr. JoAnn Yanez:
Yes, I can hear you fine. Can you hear me?
Erin Brinker:
Oh yeah. That is so much better. Okay.
Dr. JoAnn Yanez:
Oh. Major improvement.
Erin Brinker:
Major improvement. So, we are talking, I'm guessing we're talking about Valentine's Day.
Dr. JoAnn Yanez:
Well, we're talking about heart health. So, I think that in relation to Valentine's Day, it makes me think about hearts and so on. And I always take this as a calendar prompt to check in on our own heart health. Are we doing the things we need to do to keep our hearts healthy?
Erin Brinker:
So, you know-
Dr. JoAnn Yanez:
What do you… Go ahead?
Erin Brinker:
Exercise?
Dr. JoAnn Yanez:
Yes. That's one. So you should be definitely getting physical movement every day. Our bodies were meant to move. There should be some sort of good vigorous exercise to your doctors okay. But at least several times a week. But there's so much more outside of exercise. People always think of exercise first, but are you keeping your stress in key? And are you laughing? Are you eating foods that are nutritious and good heart health foods?
Dr. JoAnn Yanez:
There's been a lot of research on the Mediterranean diet. I know we've talked about this before. Lots of whole fruits and vegetables, very minimally processed grain, a lot of fish and minimal meat products. And that has had very positive association with better heart health outcomes. Minimal wine, no smoking obviously. And I think that there's so much besides just eating well and exercise. Are you keeping your thoughts healthy? Are you sharing laughter? Yesterday, gosh, I don't know if you saw that… I've been on way too many Zoom calls in the last nine months. And there was that meme of the lawyers in Texas where the Zoom guy was a cat.
Erin Brinker:
Yes. So funny.
Dr. JoAnn Yanez:
Hilarious. But it's just so many of my friends, we're just overworked and everyone's like, oh my gosh, I really needed that laugh. I needed a good belly, tears coming out of your eyeballs, kind of laugh. And that is good for us. It's good medicine. It releases endorphins. It helps lower blood pressure. You know what else helps lower blood pressure? Animals.
Erin Brinker:
Ahh, Yes.
Dr. JoAnn Yanez:
Animals. There's been literature that's actually shown that spending quality time, petting and loving on an animal, lowers your blood pressure, it also lowers the blood pressure of the animal.
Erin Brinker:
Oh, nice. Well, they use, and I'm thinking about the equine therapy, for example, people who have gone through severe trauma find tremendous relief in equine therapy, working with horses and we think of animals-
Dr. JoAnn Yanez:
Last month, my husband's hospitals, the workers have been so overburdened with this crisis right now that they brought in mini therapy ponies.
Erin Brinker:
Oh seriously, that's so cool.
Dr. JoAnn Yanez:
They brought them in for the staff, not for the patients. They brought the ponies in for the staff in recognition that hey, you all are working extensively hard and under extreme circumstances here and we need the therapy horses as much as the patients too.
Erin Brinker:
That's amazing. That is so awesome. I know that when my my mother was going through surgeries, as she started her decline, before she passed away, one of the surgeries… She was at Huntington Memorial in Pasadena, and somebody brought in a labradoodle and they were in the waiting room and people who were waiting for their family members to get out of surgery were able to snuggle this dog. And I actually, I mean, I felt so much better after snuggling a dog for a minute or so.
Dr. JoAnn Yanez:
There's definite therapeutic benefits of animals, from laughter and connection. And so, there's just so many different ways that we can be kind to our stress levels and our hearts. And it's really remembering, that in the moment, you have control over the moment. And so your choice, do you want this moment to be one that's stressful and negative, or are you going to do what you can to try and enjoy, even being in the hospital, waiting on a potentially contentious outcome for a loved one, but let's try and make the best out of what we can. And snuggle a dog for a minute.
Erin Brinker:
Now, what if your cat consistently headbutts you, as you're trying to do Zoom meetings and look professional, and there's the kitty in the Zoom meeting every day?
Dr. JoAnn Yanez:
This is just a new normal. I think that the traditional rules of professionalism have gone out the window. I have seen more cat tooshies in the last 10 months. I have a couple of co-workers where their cats just magically know where the camera is and put their butt there.
Erin Brinker:
Yes, yes, they do.
Todd Brinker:
Yeah. In our house we have wiener dogs that bark if you don't give them attention. So, you either have your meeting with barking going on…
Dr. JoAnn Yanez:
We're in a new normal and it's in the same vein, there are kids popping in. My son has made many an appearance in my Zoom calls. It is what it is. At this point, people's work and home life are intermeshed and that's what you get.
Todd Brinker:
I think it humanizes things to a little bit to an extent too. I don't think it's necessarily a bad thing. We should all bring a pet to work.
Erin Brinker:
Absolutely. A 100% agree. And Tobin and I were watching comedy. Now, we were watching Ron White because I had a stressful day yesterday and he put on Ron White and sometimes he can be kind of gross, but sometimes he can be absolutely hilarious and it felt good to just belly laugh. It really did. And I actually think I slept better because of it.
Dr. JoAnn Yanez:
Well, like I said earlier, there's been research with cancer. There's been research with heart disease. It improves outcomes, it improves your immune system, it lowers blood pressure, it increases endorphins. Like I said, it helps lower your cortisol levels. Laughter's good medicine. And it's free and beneficial [inaudible 00:12:04] easy, especially now with YouTube to put on a comedian or find something from Netflix or on whatever streaming services you have. It should be something that everybody includes in their day, their daily life, their weekly life.
Erin Brinker:
Indeed, indeed, indeed. Well, Dr. Yanez, tell people how they can find you and follow you and learn more about the AANMC.
Dr. JoAnn Yanez:
You bet. We're all on the internet and social media, aanmc.org. And we do host free monthly events. We've got a month in March coming up in on postpartum depression. We just had a webinar on environmental toxins and the recording is up on that one now, and every month we have free events. So we'd love for folks to join us.
Erin Brinker:
Thank you so much as always, it's been a treat. Stay heart healthy and enjoy the rest of your week.
Dr. JoAnn Yanez:
You too.
Erin Brinker:
All right. So with that, it's time for a break. I'm Erin Brinker,
Todd Brinker:
I'm Todd Brinker.
Erin Brinker:
And we are On the Brink, the morning show on KCAA. We'll be right back.
Learn More About Becoming a Naturopathic Doctor
Receive information from the accredited schools of your choice located across North America!