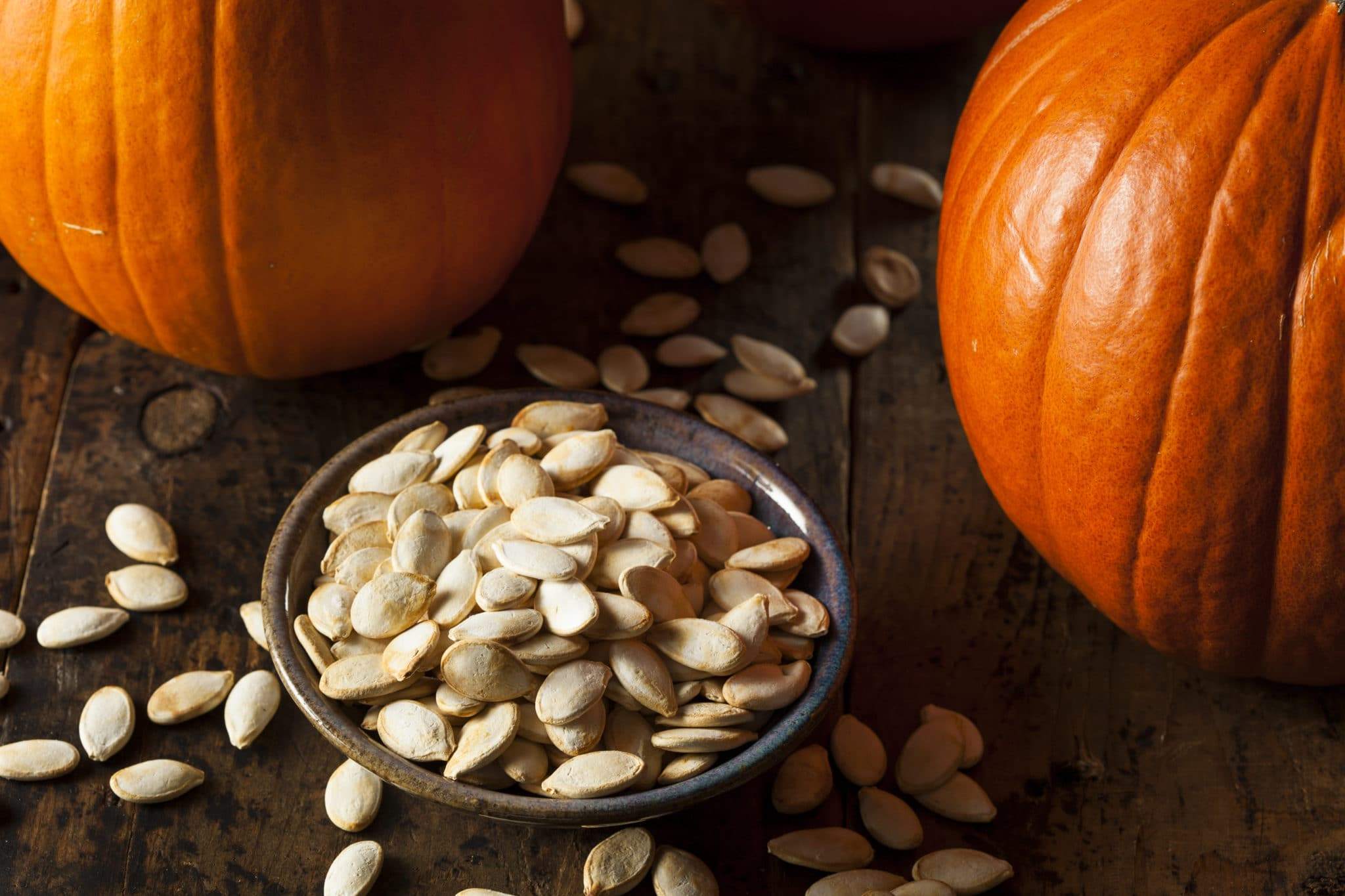 Welcome to The Naturopathic Kitchen! Each week we showcase herbs, food or spices that can easily be incorporated into your kitchen routine to promote healthier living. This week let's take a look at pumpkin seeds!
Pumpkin Seeds 101
Many of us are familiar with the thin white seeds of the pumpkin that are pulled out when making a jack-o-lantern. Once these slimy seeds have been harvested they can be served in all kinds of ways—raw, roasted or de-shelled and used in salads or baked goods. Pumpkin seeds can even be made into a healthy oil or salad dressing. They are incredibly versatile, tasty and most importantly – great for your health!
Where do pumpkin seeds come from? Where can I find them?
Pumpkin seeds or, pepitas as they are called where they originated from, have been discovered by archaeologists in caves in Mexico dating as far back as 7,000 BC. They were treasured by many Native American tribes who cultivated them for their dietary and medicinal properties.
Today, pumpkin seeds can be found year round in most grocery stores. You might find them in the bulk nut aisles, part of a protein bar or even sold as a small snack pack at the check-out.
How do pumpkin seeds help my health?
Being high in antioxidant content, pumpkin seeds exert many of their beneficial effects by taming free radical activity. Pumpkin seeds are also high in zinc and many forms of vitamin E which can help the immune system to be more robust and effective. Historically, they have been ingested for conditions like insomnia, diabetes, heart problems and cancer. Research has shown pumpkin seeds to be cardio-protective, lipid-lowering, hypoglycemic, anti-hypertensive, and can even protect against BPA and chemotherapy toxicities. 1, 2, 3, 4
What medical conditions/symptoms are pumpkin seeds good for?
When should pumpkin seeds be avoided?
Pumpkin seeds are generally well tolerated but in certain circumstances they should be avoided:
Pumpkin seeds can interact with lithium and shouldn't be taken together
Known allergy to pumpkin seeds
Let's try it out with delicious and nutritious recipes!
Spiced Pumpkin Seed Cranberry Snack Bars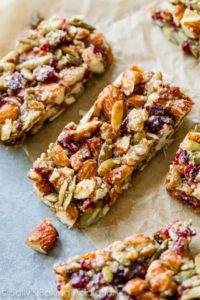 INGREDIENTS
1/4 c honey
1/2 t vanilla
1/4 c almond meal
1/8 t sea salt
1 t pumpkin spice
1 T almond butter
1 1/3 c almonds, chopped
1/2 c dried cranberries
3/4 c lightly salted pepitas
INSTRUCTIONS
Preheat oven to 300°F. Line an eight-inch baking pan with parchment paper with enough overhang on the sides to easily remove the bars from the pan. Set aside. Mix the honey, vanilla, almond meal, salt, pumpkin pie spice and almond butter together until combined. Fold in the almonds, dried cranberries and pepitas until combined. Transfer mixture to prepared baking pan and press very firmly into an even layer. You really want it packed in tight- as tight as possible. Bake for 20-22 minutes. Remove from the oven and allow to cool completely in the pan set on a wire rack for one hour, then transfer to the refrigerator to chill for one more hour. This helps firm up the bars which makes them stay compact. Remove bars from the pan using the overhang on the sides and cut into bars. Individually wrap each bar in plastic wrap or parchment. Store at room temperature for one week or in the refrigerator for up to two weeks. These bars are freezer friendly. After wrapping individually, freeze for up to three months.
Thank you to Sally's Baking Addiction for this recipe and photo!
Pumpkin Seed Pesto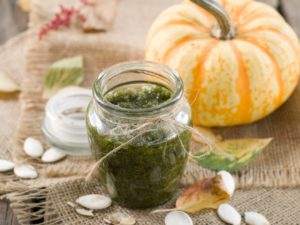 INGREDIENTS
2 c packed fresh aromatic herbs (basil, parsley, mint, coriander) or leafy greens (spinach, arugula, carrot tops, beetroot greens)
1/4 c Parmesan cheese
1/2 c pumpkin seeds
1 garlic clove
squeeze of lemon to taste
pepper and salt to taste
1/2 c cold-pressed olive oil
INSTRUCTIONS
Add all of the ingredients (except the olive oil) to your food processor/blender and blend until it becomes a paste. With the food processor on, feed the olive oil slowly through the feeder. If the pesto is too thick, add a little bit more olive oil. If too runny, add more herbs/greens and pumpkin seeds. Store in an airtight container in the fridge for up to 5 days or freeze in ice cube molds.
Thank you to Cocoon Cooks for this recipe!
Learn More About Becoming a Naturopathic Doctor
Receive information from the accredited schools of your choice located across North America!